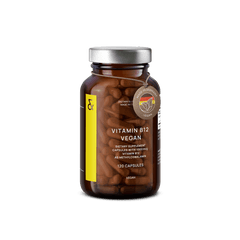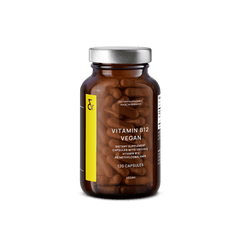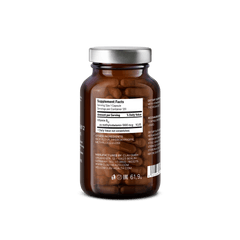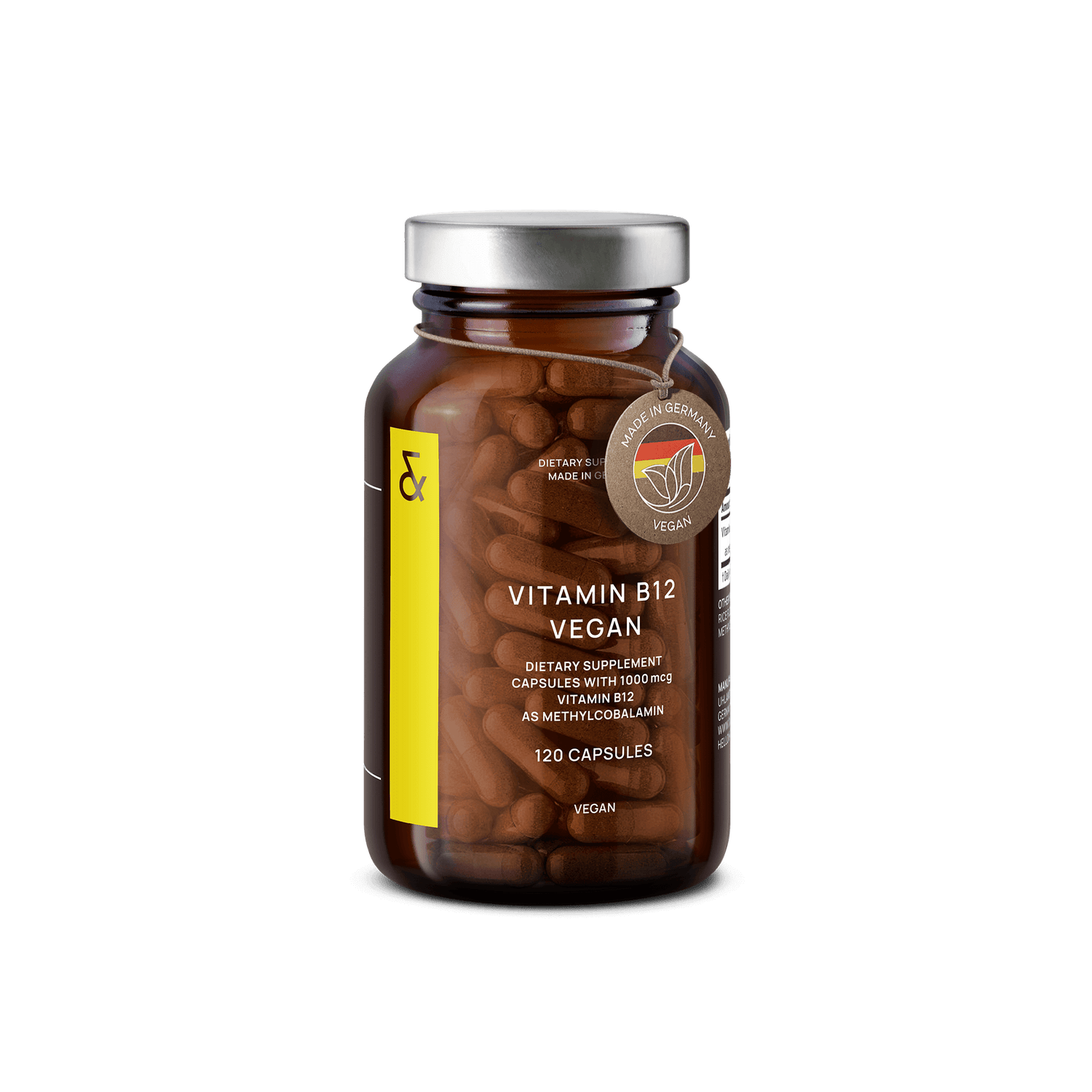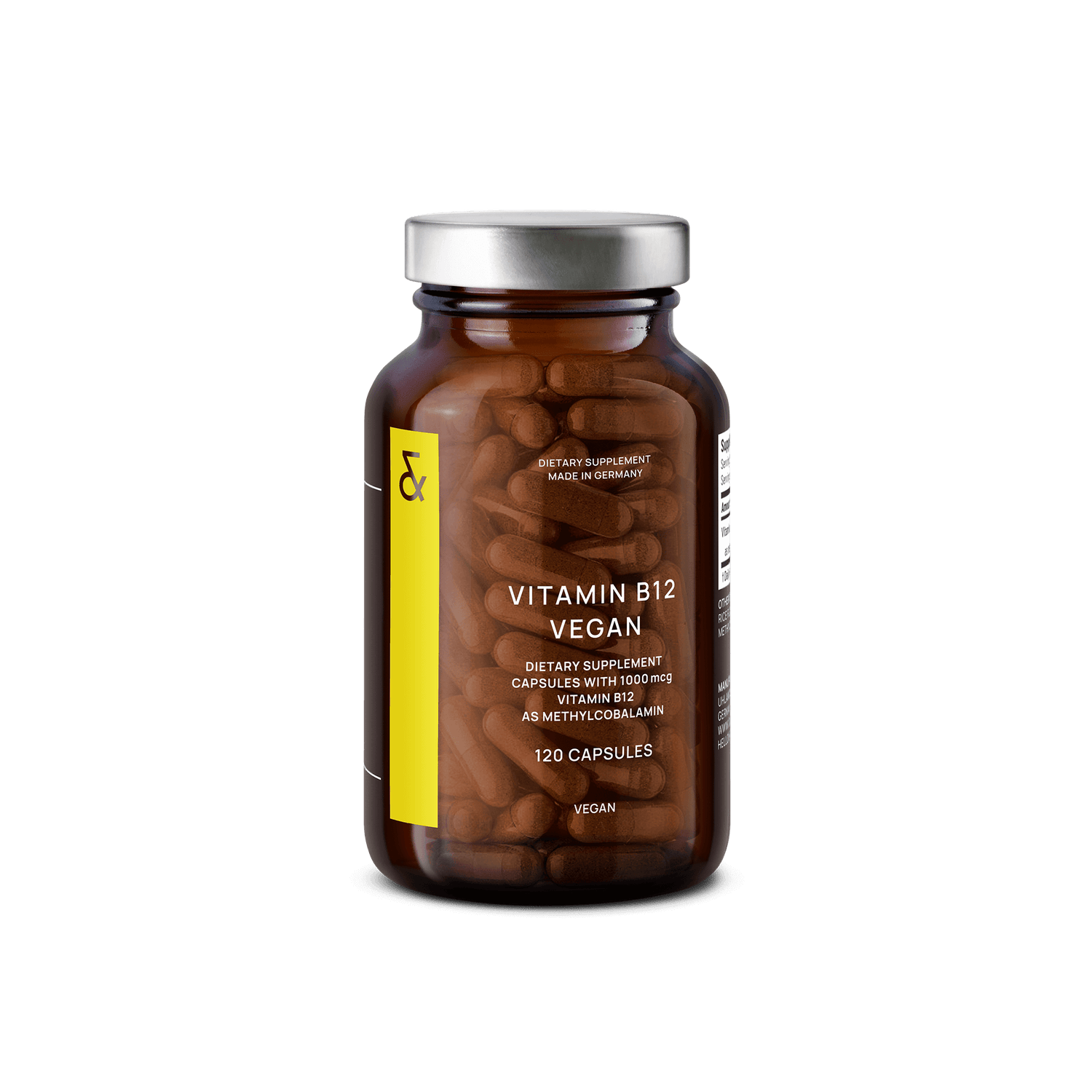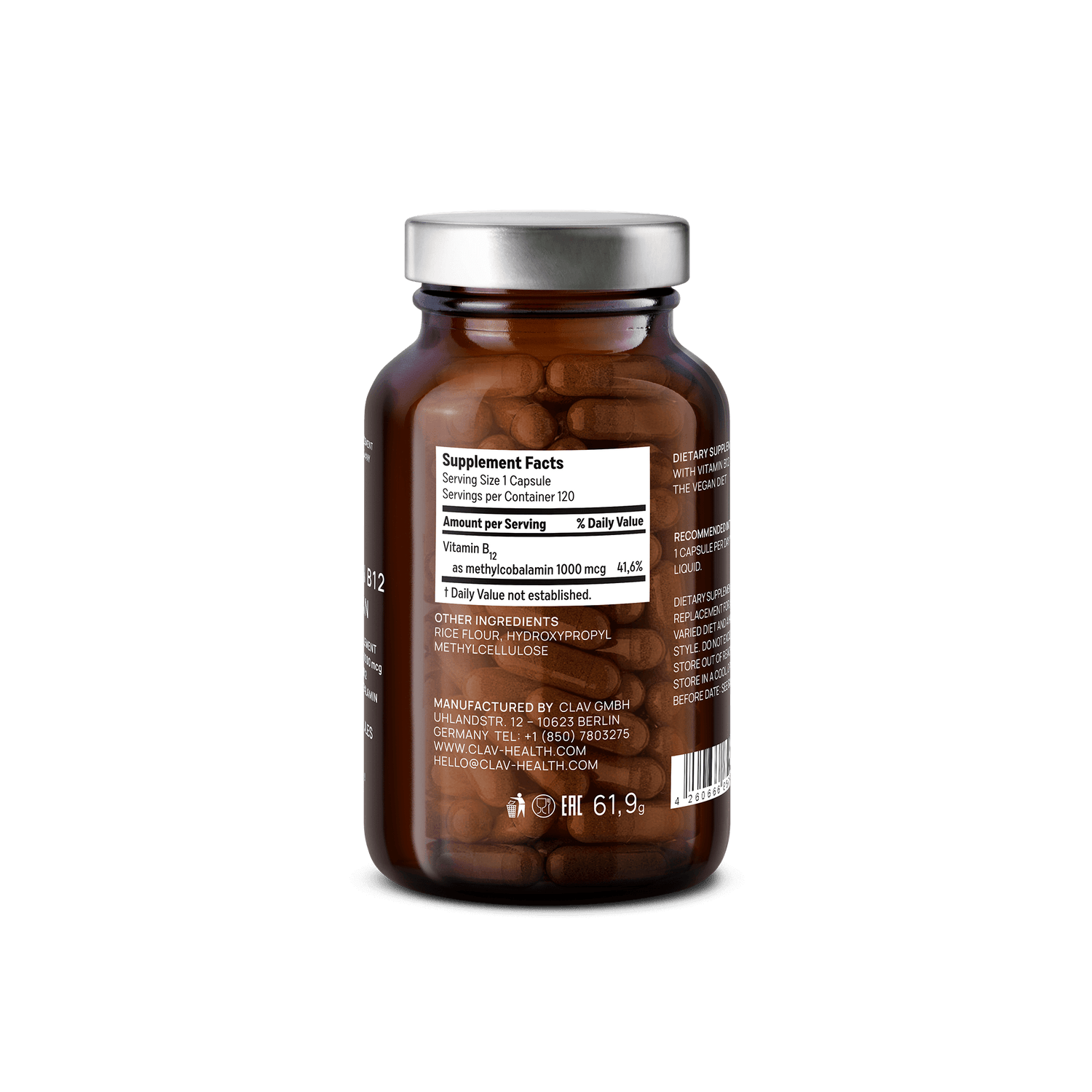 1000mcg Methylcobalamin
120 Capsules - 120 days
Regular price

$34.90

Sale price

$19.90

Unit price

$30.24

per

100g
Unit price

$30.24

per

100g
incl. 7% VAT shipping
With you in 2-3 working days / Within Europe & USA 5-6 days
30 Days Money Back Guarantee
VITAMIN B 12 HIGH DOSAGE
Vitamin B12 high dosage (Methylcobalamin) supports cell division, nerve function and blood formation
Vit B 12 supports normal energy metabolism B-12 contributes to normal nerve function
B12 contributes to normal psychological function
Covers the daily requirement for vitamin B-12
100% vegan with the official V-Label certificate
Free from lactose, gluten, genetic engineering and undesirable additives
Recyclable glass bottle with capsules made from plant substances
Laboratory-tested quality and high bioavailability
Made in Germany
Product Details

BUY VITAMIN B 12 WITH HIGH BIOAVAILABILITY

Our body needs eight essential B vitamins that it cannot produce itself and that it needs to survive. One of these B vitamins is vitamin B 12 (also called cobalamin or methylcobalamin). Since we cannot produce this important vitamin ourselves, but can store it in the body for a long time, we have to ingest it with our food. Everyone has their own vitamin B 12 depot, in which they can store the vital vitamin for years. Vitamin B 12 (especially in high doses) is virtually non-existent in plant-based foods. Therefore, people who follow a vegan or vegetarian diet have a slightly greater challenge to meet this need than others. For this type of diet, in particular, it is advisable to buy vitamin B12 - ideally even high-dose vitamin B12, for example in the form of capsules.

The organic methylcobalamin contained in it has a great influence on the normal function of our nervous system and contributes significantly to cell division and renewal. Because this vitamin is so important, a high bioavailability should be taken into account when buying a high dose of vitamin B12, so that our body can absorb it in the best possible way.

WHY SHOULD I BUY VITAMIN B 12?

Vitamin B12 in high doses is the only water-soluble vitamin that our body can store and manage for several years. This allows us to build a memory that will last a long time. The vitamins of the B group is essential in cell division, blood formation, the development of nerve cells and the metabolism. People in different life situations can have different levels of need for the B vitamin. Babies and children need more vitamin B12 than adults. Breastfeeding and pregnant women also have an increased need for vitamin B12. Older people can also have a higher requirement because they can no longer store the vitamin as well.

A long-term and undetected vitamin B12 deficiency can have serious consequences. Symptoms can include tiredness and listlessness. A severe deficiency can lead to serious neurological diseases. It is therefore advisable to have the vitamin B12 content in the blood checked by your family doctor again and again.

But an overdose of the vitamin is not beneficial either. It is best to discuss your individual needs with your treating doctor and have your blood value checked regularly. Dietary supplementation with vitamin B12 is advisable for all people - regardless of how they eat and what circumstances they are in. Since the food does not have enough of the vitamin, a supplementation of high-dose vitamin B12 capsules with high bioavailability is recommended.

What contains VITAMIN B 12?

The water-soluble cobalamin is found in most animal products. But there are also herbal products fortified with Vit B12 that can be consumed. However, the required B12 requirement cannot always be covered through food. Not every food has a high bioavailability of the vitamin B12 in our body. Especially people who forego animal products and foods have to consume this vitamin externally. Fortified plant drinks are not enough here to cover the demand and replenish the depot. Anyone who eats a balanced diet and eats a healthy mixed diet is probably not deficient in vitamin B12. But only a blood test can be certain. The best food sources for B12 are meat, fish, liver, eggs, and milk and dairy products. However, it is also found in smaller quantities in fermented foods such as sauerkraut.

For those who do not consume these foods and want to avoid a deficiency, supplementation is highly recommended. One capsule contains a total of 1000 μg [1] methylcobalamin, which covers your daily / weekly / monthly requirement for vitamin B12 and at the same time has a high bioavailability.

EASY INTAKE

In order to work optimally, 1 capsule should be swallowed whole with liquid daily. The recommended daily dose should not be exceeded.

HOW TO STORE CLAV VITAMIN B 12

If possible, store the capsules in a dry place, out of direct sunlight and out of the reach of children. CLAV VITAMIN B 12 must not be used after the expiry date stated on the packaging.

IMPORTANT INSTRUCTIONS

Dietary supplements are not intended as a substitute for a balanced and varied diet or a healthy lifestyle. Which dietary supplements are useful or possible for you personally always depends on your physical condition. If you suffer from symptoms and suspect deficiency symptoms, please consult a doctor and discuss which preparations are suitable for you.

INGREDIENTS

Nutritional values per daily portion (2 capsules)

Vitamin B12

as methylcobalamin

1000 μg (20,000%)


*Nutrient Reference Value (NRV)
FAQ

When and how should I take the product?

We recommend taking our products with a meal and a glass of water. The intake time depends on the product and you will find the exact recommendations on each package.

Are there any known intolerances?

We are not aware of any intolerances, but we cannot rule out individual intolerances. Please adhere to our recommended intake.

Can the capsules be opened? (e.g. if it is difficult to swallow)

The capsule can also be opened and the contents can be taken without the capsule shell
Please do not expose the contents to excessive heat
avoid acidic drinks
consume immediately after opening the capsule

Tip for swallowing difficulties:

Place the capsule in your mouth with enough water and tilt your head slightly forward towards your chest. Even if you don't expect it, taking it this way is many times easier.

When can I expect to see an effect?

Each of our products addresses different needs and pursues different modes of action and goals. Basically, dietary supplements are not medicines. For a sensible supplement to a healthy lifestyle, we recommend taking the products for at least 1 up to 3 months.

What happens if I don't notice any effect?

If you don't notice anything, it doesn't mean the ingredients aren't working. Everything we ingest has an effect that we don't necessarily feel immediately. We pay a lot of attention to the quality of our ingredients, their bioavailability and combination.

Can I combine CLAV products?

Our products are all:

basically well to combine
very balanced and holistic in their approach
developed to provide you with the different life situations, needs and goals
containing highly bioavailable ingredients

You can contact us directly for all individual combinations and we will be happy to advise you personally.
Shipping & Return

Free shipping within Germany starts from 29 EUR order value (3.80 EUR in all other cases)
Delivery Flat Rate within the EU for 6.90 EUR
Flat Rate Delivery outside the EU for 25 EUR (additional customs duties and fees may apply)
30 Days Return Policy.
30 Days Money Back Guarantee on one item from one order, even after opening and trying the product! Only applicable once per customer.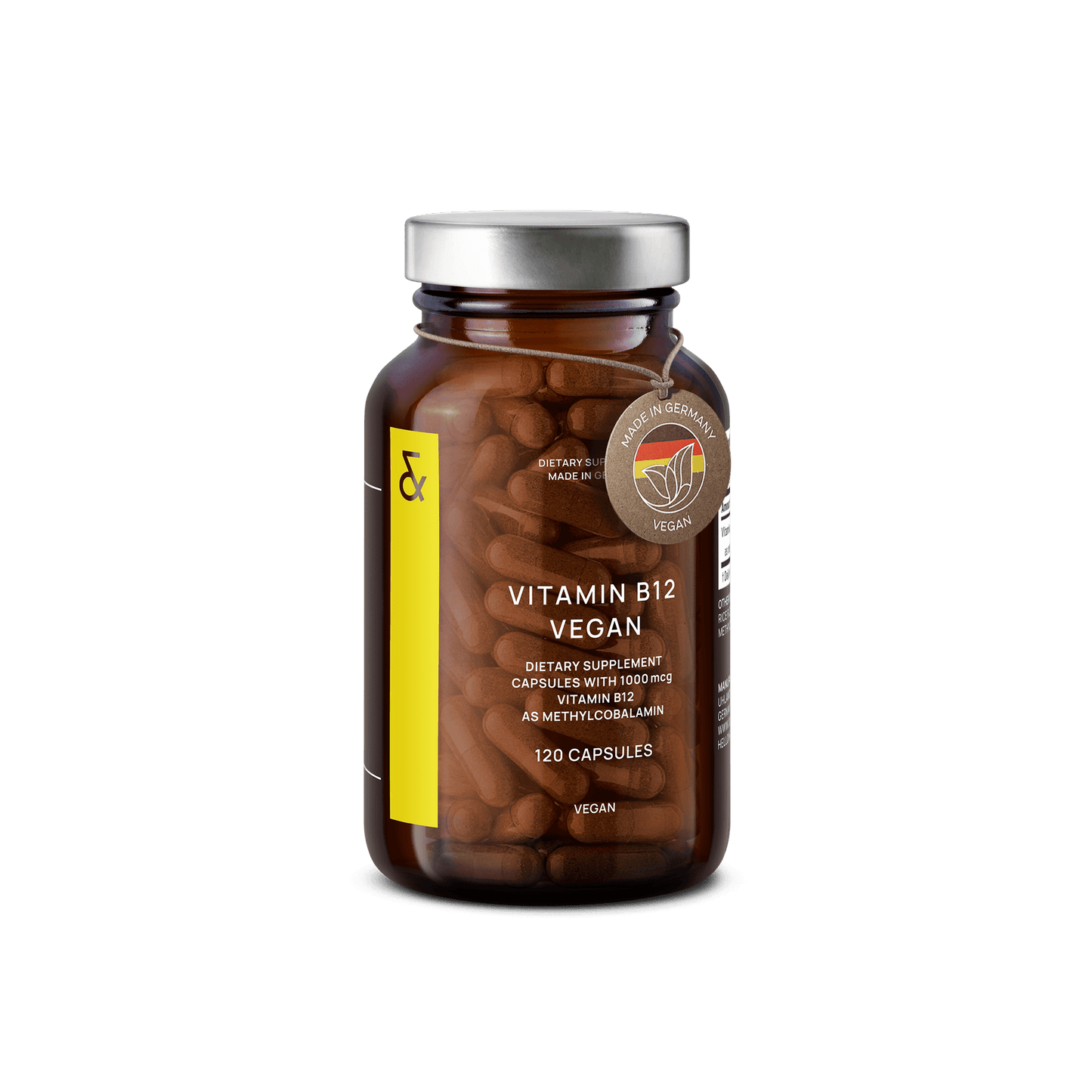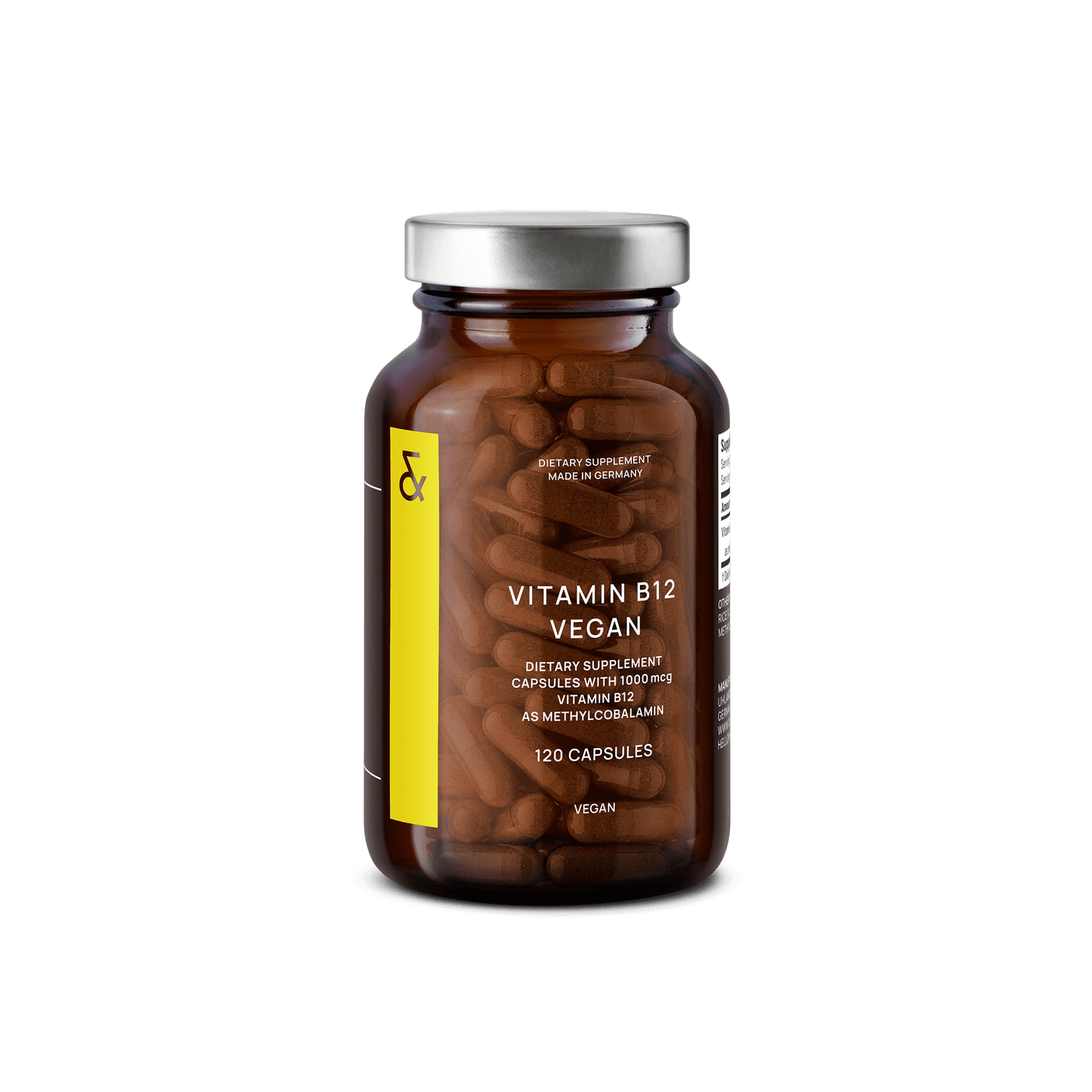 BUY VITAMIN B 12 WITH HIGH BIOAVAILABILITY
Our body needs eight essential B vitamins that it cannot produce itself and that it needs to survive. One of these B vitamins is vitamin B 12 (also called cobalamin or methylcobalamin). Since we cannot produce this important vitamin ourselves, but can store it in the body for a long time, we have to ingest it with our food. Everyone has their own vitamin B 12 depot, in which they can store the vital vitamin for years. Vitamin B 12 (especially in high doses) is virtually non-existent in plant-based foods. Therefore, people who follow a vegan or vegetarian diet have a slightly greater challenge to meet this need than others. For this type of diet, in particular, it is advisable to buy vitamin B12 - ideally even high-dose vitamin B12, for example in the form of capsules.
The organic methylcobalamin contained in it has a great influence on the normal function of our nervous system and contributes significantly to cell division and renewal. Because this vitamin is so important, a high bioavailability should be taken into account when buying a high dose of vitamin B12, so that our body can absorb it in the best possible way.
WHY SHOULD I BUY VITAMIN B 12?
Vitamin B12 in high doses is the only water-soluble vitamin that our body can store and manage for several years. This allows us to build a memory that will last a long time. The vitamins of the B group is essential in cell division, blood formation, the development of nerve cells and the metabolism. People in different life situations can have different levels of need for the B vitamin. Babies and children need more vitamin B12 than adults. Breastfeeding and pregnant women also have an increased need for vitamin B12. Older people can also have a higher requirement because they can no longer store the vitamin as well.
A long-term and undetected vitamin B12 deficiency can have serious consequences. Symptoms can include tiredness and listlessness. A severe deficiency can lead to serious neurological diseases. It is therefore advisable to have the vitamin B12 content in the blood checked by your family doctor again and again.
But an overdose of the vitamin is not beneficial either. It is best to discuss your individual needs with your treating doctor and have your blood value checked regularly. Dietary supplementation with vitamin B12 is advisable for all people - regardless of how they eat and what circumstances they are in. Since the food does not have enough of the vitamin, a supplementation of high-dose vitamin B12 capsules with high bioavailability is recommended.
What contains VITAMIN B 12?
The water-soluble cobalamin is found in most animal products. But there are also herbal products fortified with Vit B12 that can be consumed. However, the required B12 requirement cannot always be covered through food. Not every food has a high bioavailability of the vitamin B12 in our body. Especially people who forego animal products and foods have to consume this vitamin externally. Fortified plant drinks are not enough here to cover the demand and replenish the depot. Anyone who eats a balanced diet and eats a healthy mixed diet is probably not deficient in vitamin B12. But only a blood test can be certain. The best food sources for B12 are meat, fish, liver, eggs, and milk and dairy products. However, it is also found in smaller quantities in fermented foods such as sauerkraut.
For those who do not consume these foods and want to avoid a deficiency, supplementation is highly recommended. One capsule contains a total of 1000 μg [1] methylcobalamin, which covers your daily / weekly / monthly requirement for vitamin B12 and at the same time has a high bioavailability.
EASY INTAKE
In order to work optimally, 1 capsule should be swallowed whole with liquid daily. The recommended daily dose should not be exceeded.
HOW TO STORE CLAV VITAMIN B 12
If possible, store the capsules in a dry place, out of direct sunlight and out of the reach of children. CLAV VITAMIN B 12 must not be used after the expiry date stated on the packaging.
IMPORTANT INSTRUCTIONS
Dietary supplements are not intended as a substitute for a balanced and varied diet or a healthy lifestyle. Which dietary supplements are useful or possible for you personally always depends on your physical condition. If you suffer from symptoms and suspect deficiency symptoms, please consult a doctor and discuss which preparations are suitable for you.
INGREDIENTS
Nutritional values per daily portion (2 capsules)

Vitamin B12

as methylcobalamin

1000 μg (20,000%)


*Nutrient Reference Value (NRV)