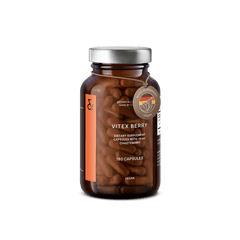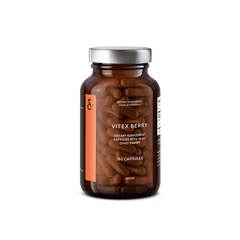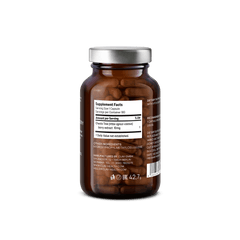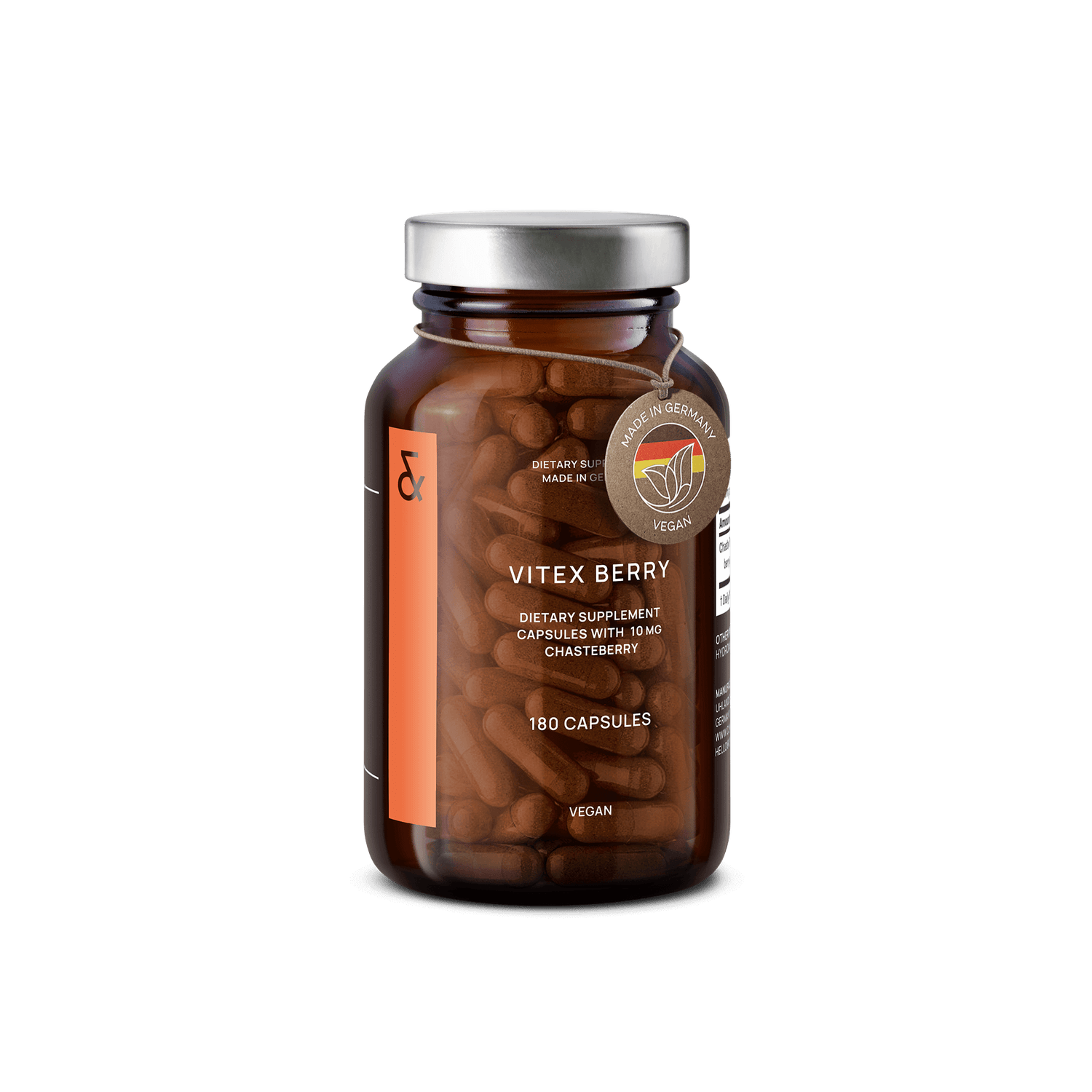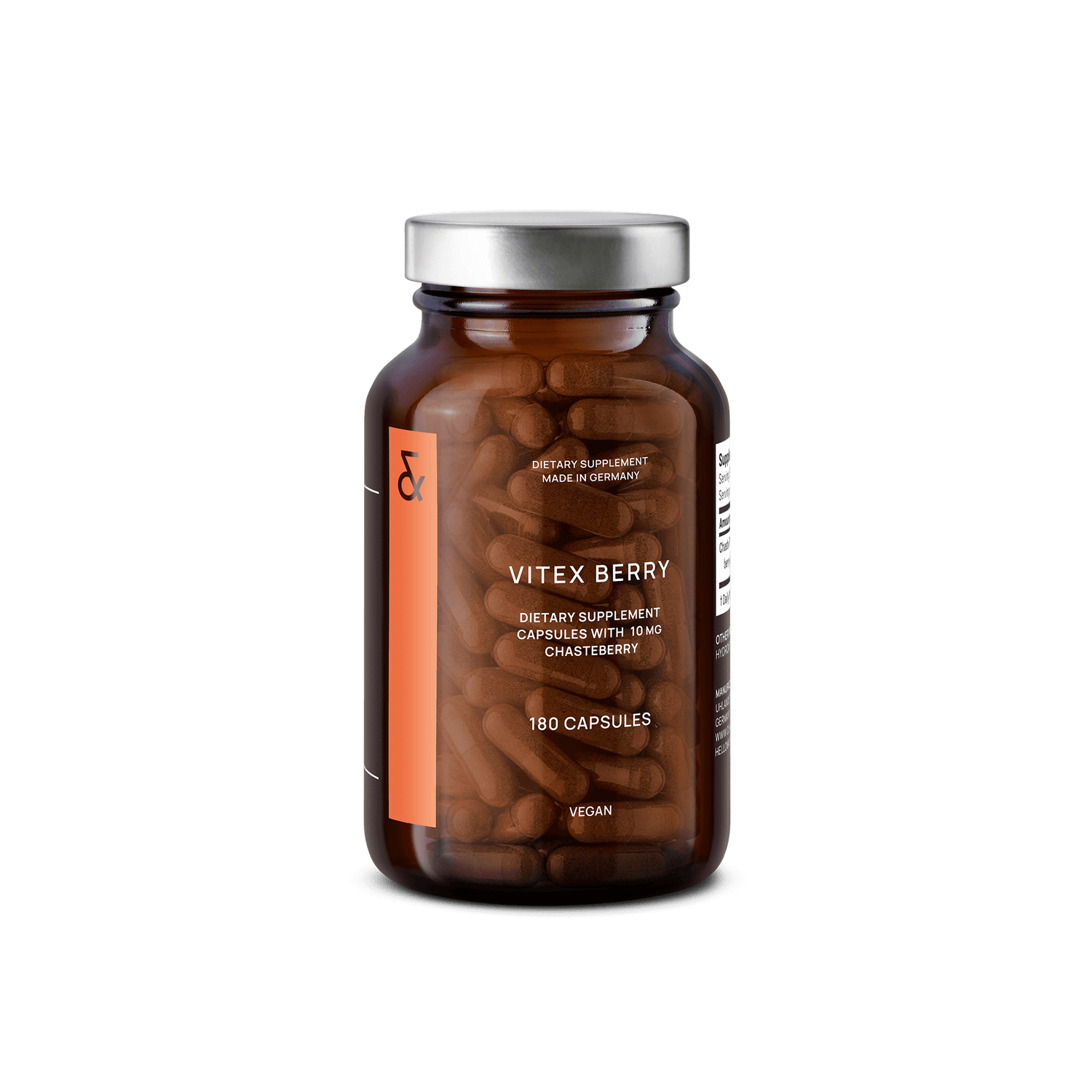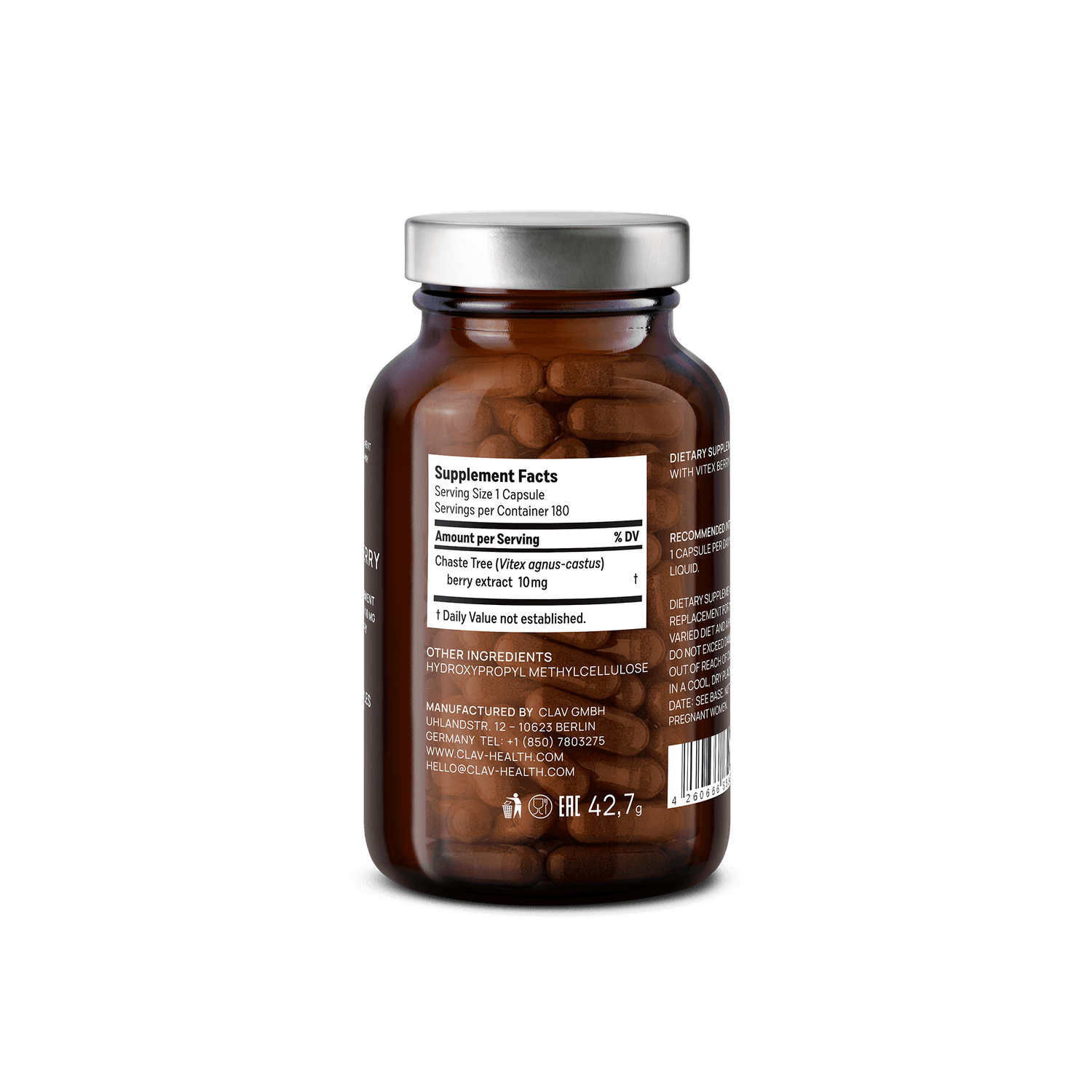 For Women's wellbeing
180 Capsules - 6 Months
Regular price

$34.90

Sale price

$19.90

Unit price

$31.09

per

100g
Unit price

$31.09

per

100g
incl. 7% VAT shipping
With you in 2-3 working days / Within Europe & USA 5-6 days
30 Days Money Back Guarantee
CHASTEBERRY EXTRACT CAPSULES
Highly dosed with 10mg Agnus Castus extract per daily dose
Rich in bitter substances, secondary plant substances and essential oils
The Chasteberry capsules support well-being during the menstrual cycle
100% vegan with the official V-Label certificate
Free from lactose, gluten, genetic engineering and unwanted additives
Recyclable glass bottle with capsules made from plant substances
Laboratory tested quality and bioavailability
Made in Germany
Product Details

BUY CHASTE BERRY EXTRACT: THIS IS WHAT YOU SHOULD NOTE

If you want to buy Agnus Castus Extract, you have the choice between different dosage forms. In addition to Chasteberry capsules, you can also buy it as tea, drops, globules or in ointments. However, standardized forms such as capsules are more recommended. So you can be sure that you are taking the same amount every day. When buying, always pay attention to the purity and quality of the capsules. It is best to check which ingredients are included and discuss the dosage with your doctor in order to avoid overdosing. The best are preparations that contain natural active ingredients and where you can be sure that you are holding a high-quality product in your hands. Taking the agnus castus capsules can have a positive effect on hormone-related symptoms in women over a longer period of time. The good thing here is that Agnus Castus Extract has almost no side effects. However, gastrointestinal complaints or allergic reactions can occur with increased intake, but are very unlikely. If you should also take hormone-regulating preparations, you should definitely discuss the use of chasteberry capsules with a doctor beforehand. In general, you shouldn't use Agnus Catus Extract if you are pregnant, breastfeeding, or have endometriosis, uterine, breast or ovarian cancer.

EASY INTAKE

For the best possible effect, we recommend taking the product regularly for at least 3 months. In order to work optimally, 2 capsules should be swallowed whole with liquid daily. The recommended daily dose should not be exceeded.

THIS IS THE BEST STORAGE FOR CLAV CHASTE BERRY EXTRACT

If possible, store the capsules in a dry place, out of direct sunlight and out of the reach of children. CLAV AGNUS CASTUS EXTRACT must not be used after the best before date stated on the packaging.

IMPORTANT INSTRUCTIONS

Dietary supplements are not intended as a substitute for a balanced and varied diet or a healthy lifestyle. Individual intolerances can occasionally occur. Not recommended for children, pregnant and breastfeeding women. Which dietary supplements are useful or possible for you personally for menstrual symptoms always depends on your physical condition. If you suffer from symptoms and suspect deficiency symptoms, please consult a doctor and discuss which preparations are suitable for you.

Ingredients

Nutritional values per daily portion (1 capsules)

Chasteberry 4:1 Extract

10mg
FAQ

When and how should I take the product?

We recommend taking our products with a meal and a glass of water. The intake time depends on the product and you will find the exact recommendations on each package.

Are there any known intolerances?

We are not aware of any intolerances, but we cannot rule out individual intolerances. Please adhere to our recommended intake.

Can the capsules be opened? (e.g. if it is difficult to swallow)

The capsule can also be opened and the contents can be taken without the capsule shell
Please do not expose the contents to excessive heat
avoid acidic drinks
consume immediately after opening the capsule

Tip for swallowing difficulties:

Place the capsule in your mouth with enough water and tilt your head slightly forward towards your chest. Even if you don't expect it, taking it this way is many times easier.

When can I expect to see an effect?

Each of our products addresses different needs and pursues different modes of action and goals. Basically, dietary supplements are not medicines. For a sensible supplement to a healthy lifestyle, we recommend taking the products for at least 1 up to 3 months.

What happens if I don't notice any effect?

If you don't notice anything, it doesn't mean the ingredients aren't working. Everything we ingest has an effect that we don't necessarily feel immediately. We pay a lot of attention to the quality of our ingredients, their bioavailability and combination.

Can I combine CLAV products?

Our products are all:

basically well to combine
very balanced and holistic in their approach
developed to provide you with the different life situations, needs and goals
containing highly bioavailable ingredients

You can contact us directly for all individual combinations and we will be happy to advise you personally.
Shipping & Return

Free shipping within Germany starts from 29 EUR order value (3.80 EUR in all other cases)
Delivery Flat Rate within the EU for 6.90 EUR
Flat Rate Delivery outside the EU for 25 EUR (additional customs duties and fees may apply)
30 Days Return Policy.
30 Days Money Back Guarantee on one item from one order, even after opening and trying the product! Only applicable once per customer.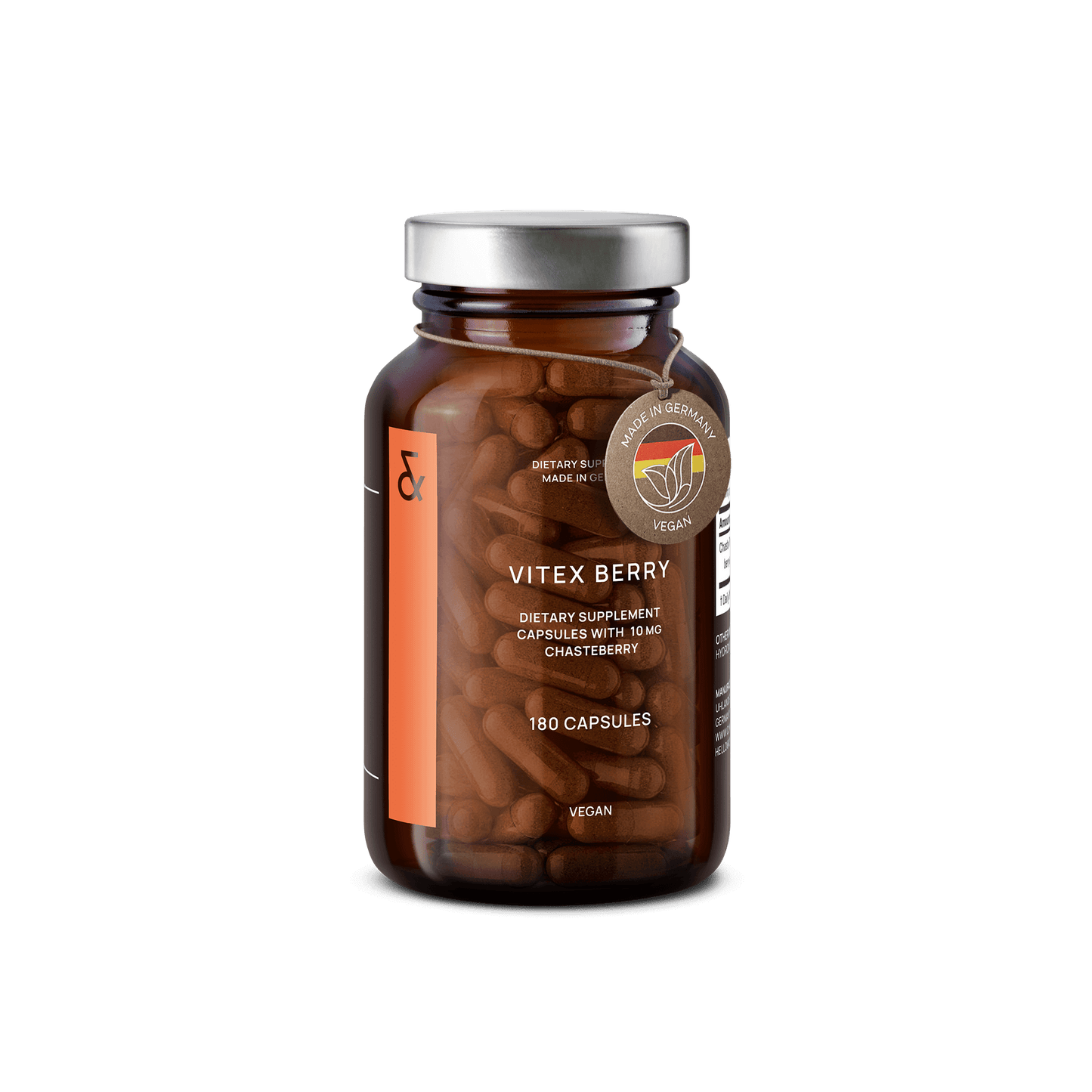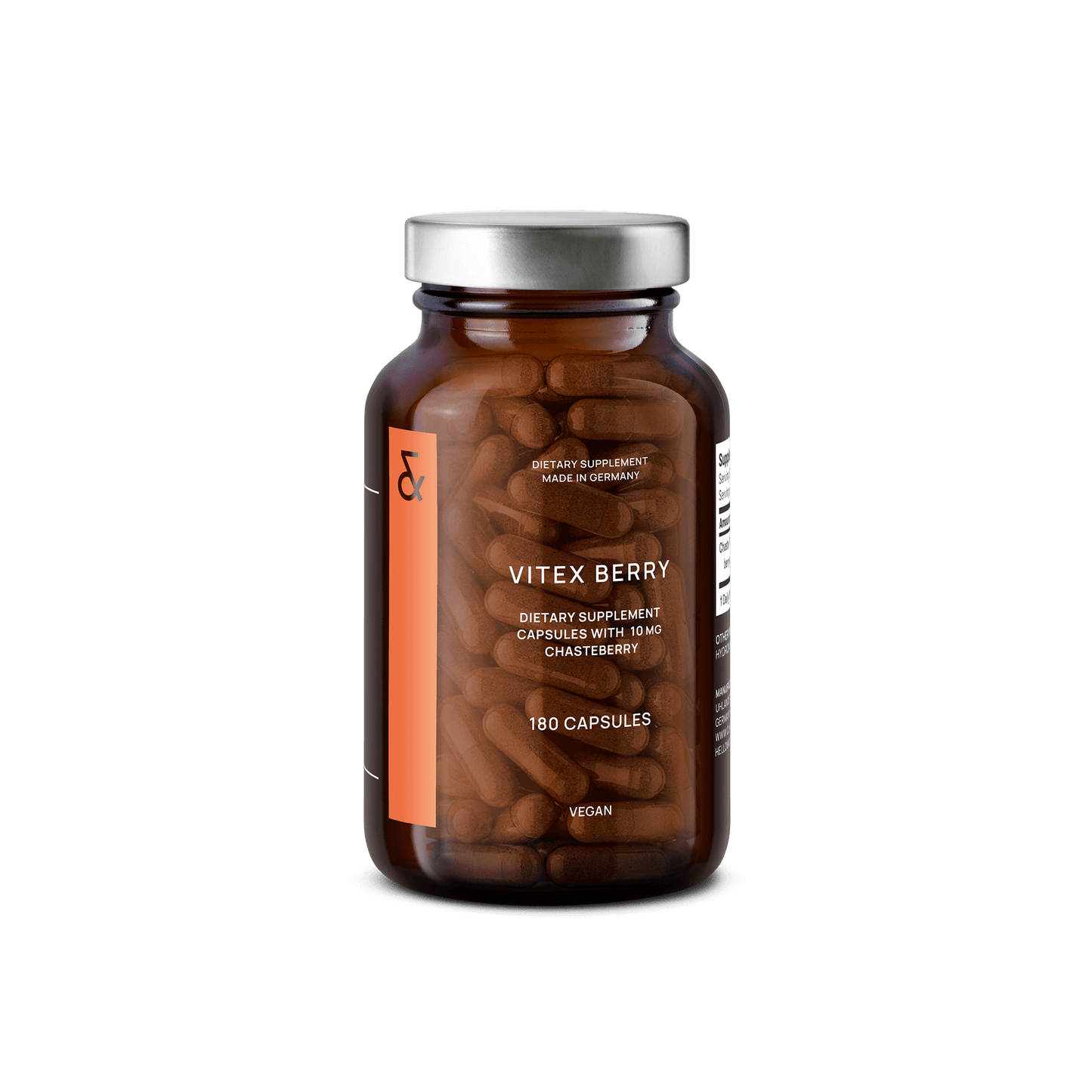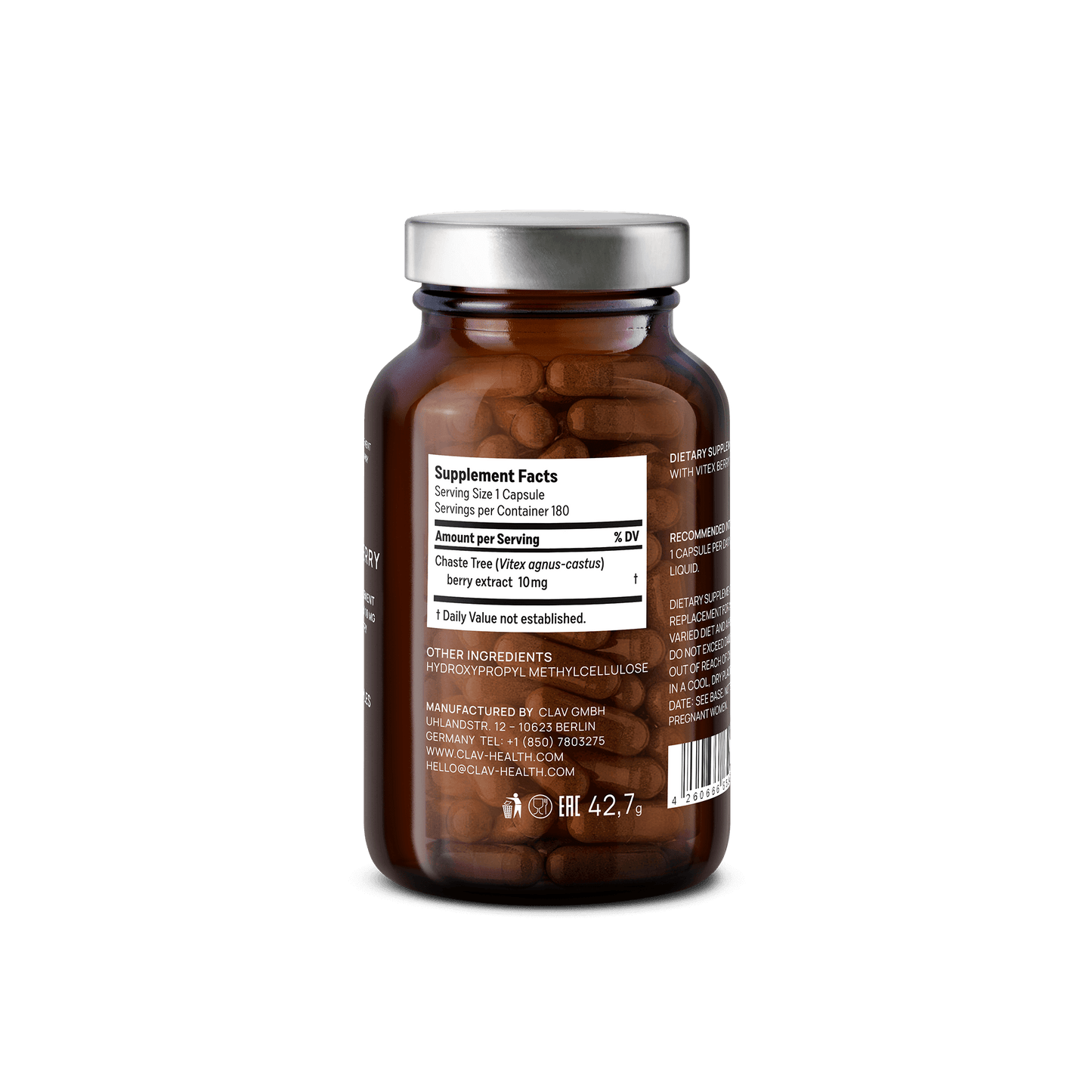 BUY CHASTE BERRY EXTRACT: THIS IS WHAT YOU SHOULD NOTE
If you want to buy Agnus Castus Extract, you have the choice between different dosage forms. In addition to Chasteberry capsules, you can also buy it as tea, drops, globules or in ointments. However, standardized forms such as capsules are more recommended. So you can be sure that you are taking the same amount every day. When buying, always pay attention to the purity and quality of the capsules. It is best to check which ingredients are included and discuss the dosage with your doctor in order to avoid overdosing. The best are preparations that contain natural active ingredients and where you can be sure that you are holding a high-quality product in your hands. Taking the agnus castus capsules can have a positive effect on hormone-related symptoms in women over a longer period of time. The good thing here is that Agnus Castus Extract has almost no side effects. However, gastrointestinal complaints or allergic reactions can occur with increased intake, but are very unlikely. If you should also take hormone-regulating preparations, you should definitely discuss the use of chasteberry capsules with a doctor beforehand. In general, you shouldn't use Agnus Catus Extract if you are pregnant, breastfeeding, or have endometriosis, uterine, breast or ovarian cancer.
EASY INTAKE
For the best possible effect, we recommend taking the product regularly for at least 3 months. In order to work optimally, 2 capsules should be swallowed whole with liquid daily. The recommended daily dose should not be exceeded.
THIS IS THE BEST STORAGE FOR CLAV CHASTE BERRY EXTRACT
If possible, store the capsules in a dry place, out of direct sunlight and out of the reach of children. CLAV AGNUS CASTUS EXTRACT must not be used after the best before date stated on the packaging.
IMPORTANT INSTRUCTIONS
Dietary supplements are not intended as a substitute for a balanced and varied diet or a healthy lifestyle. Individual intolerances can occasionally occur. Not recommended for children, pregnant and breastfeeding women. Which dietary supplements are useful or possible for you personally for menstrual symptoms always depends on your physical condition. If you suffer from symptoms and suspect deficiency symptoms, please consult a doctor and discuss which preparations are suitable for you.
Ingredients
Nutritional values per daily portion (1 capsules)

Chasteberry 4:1 Extract

10mg