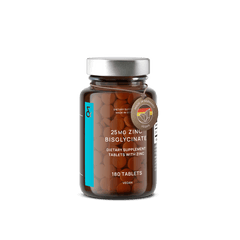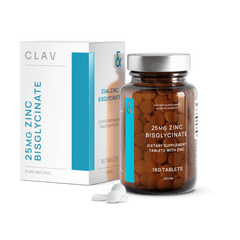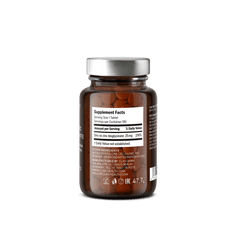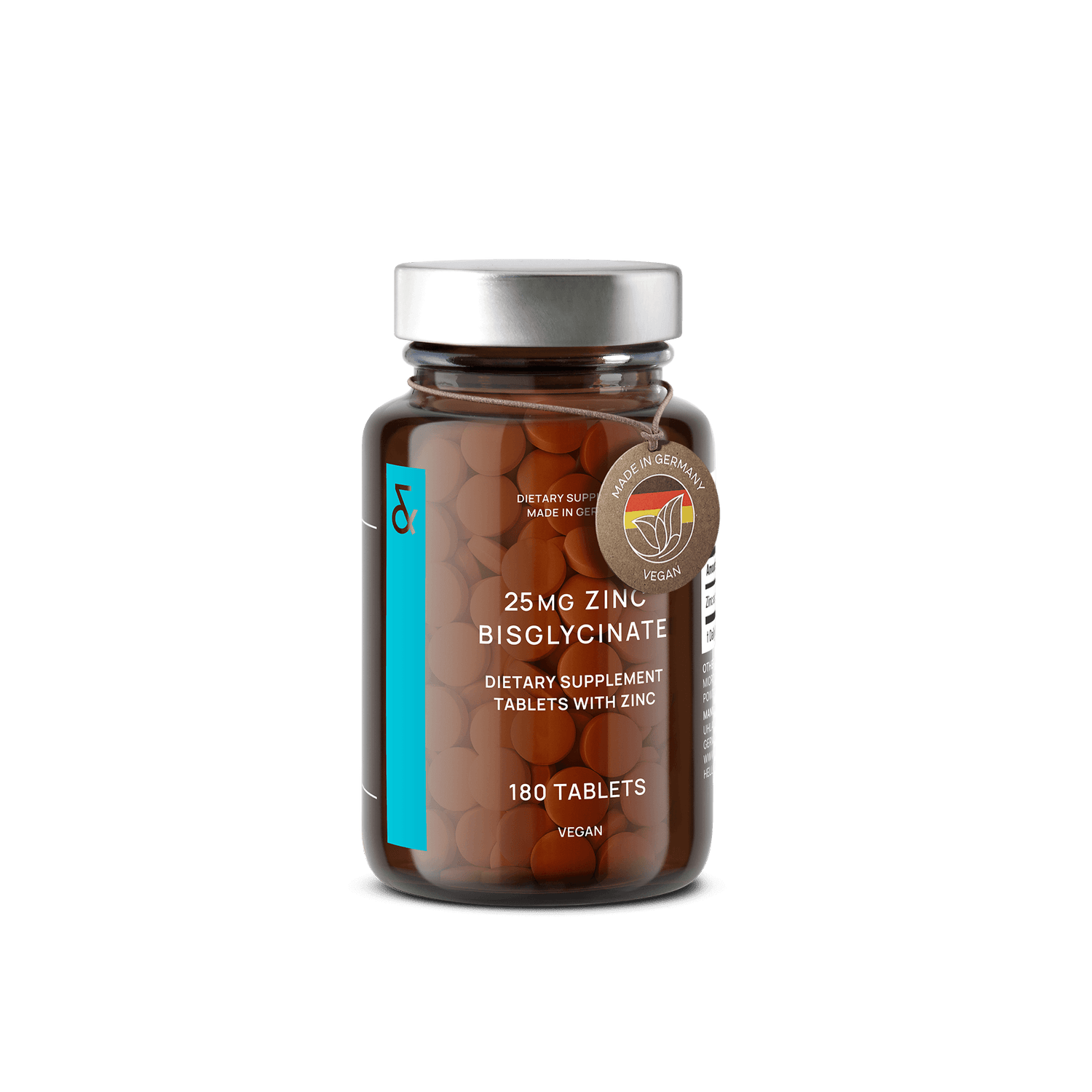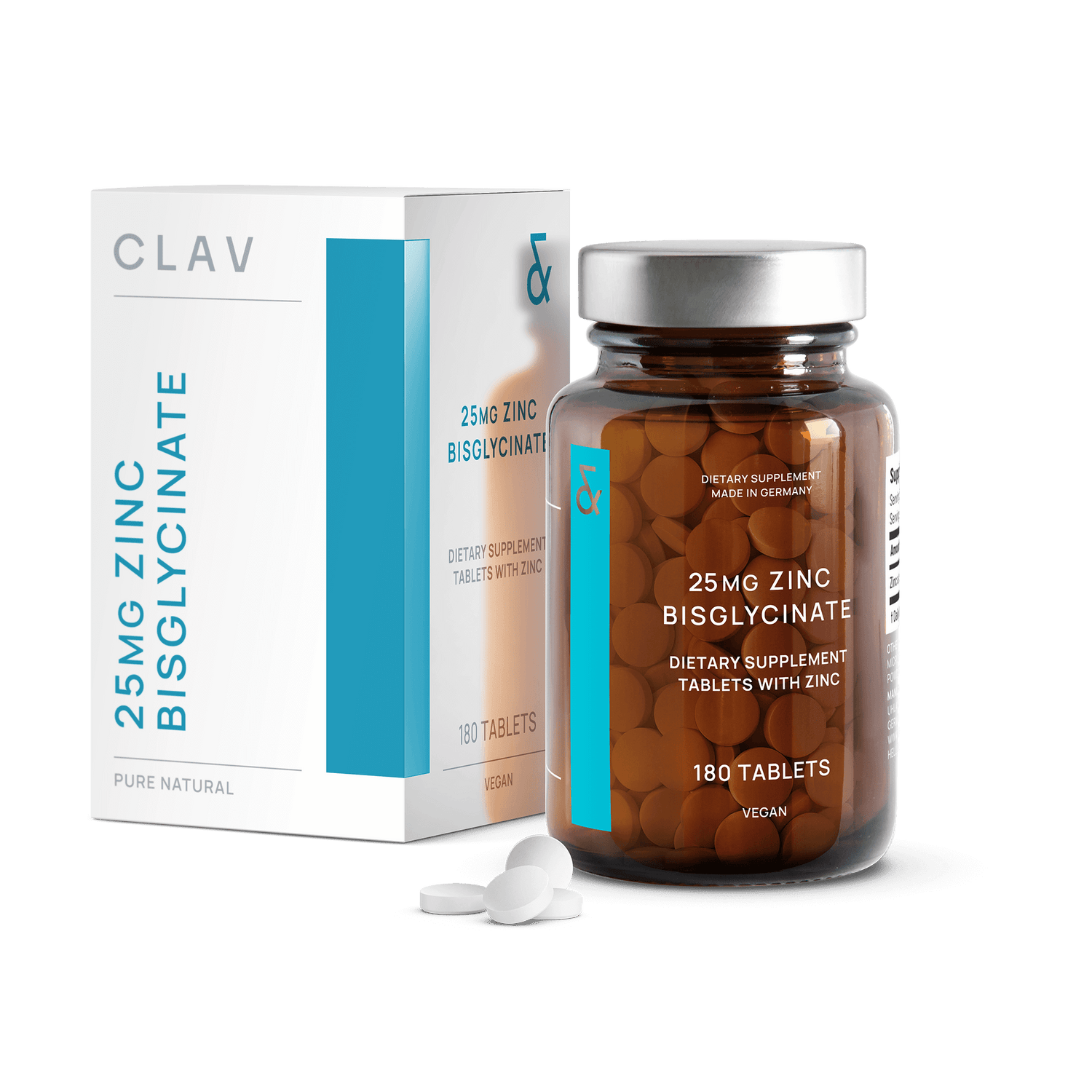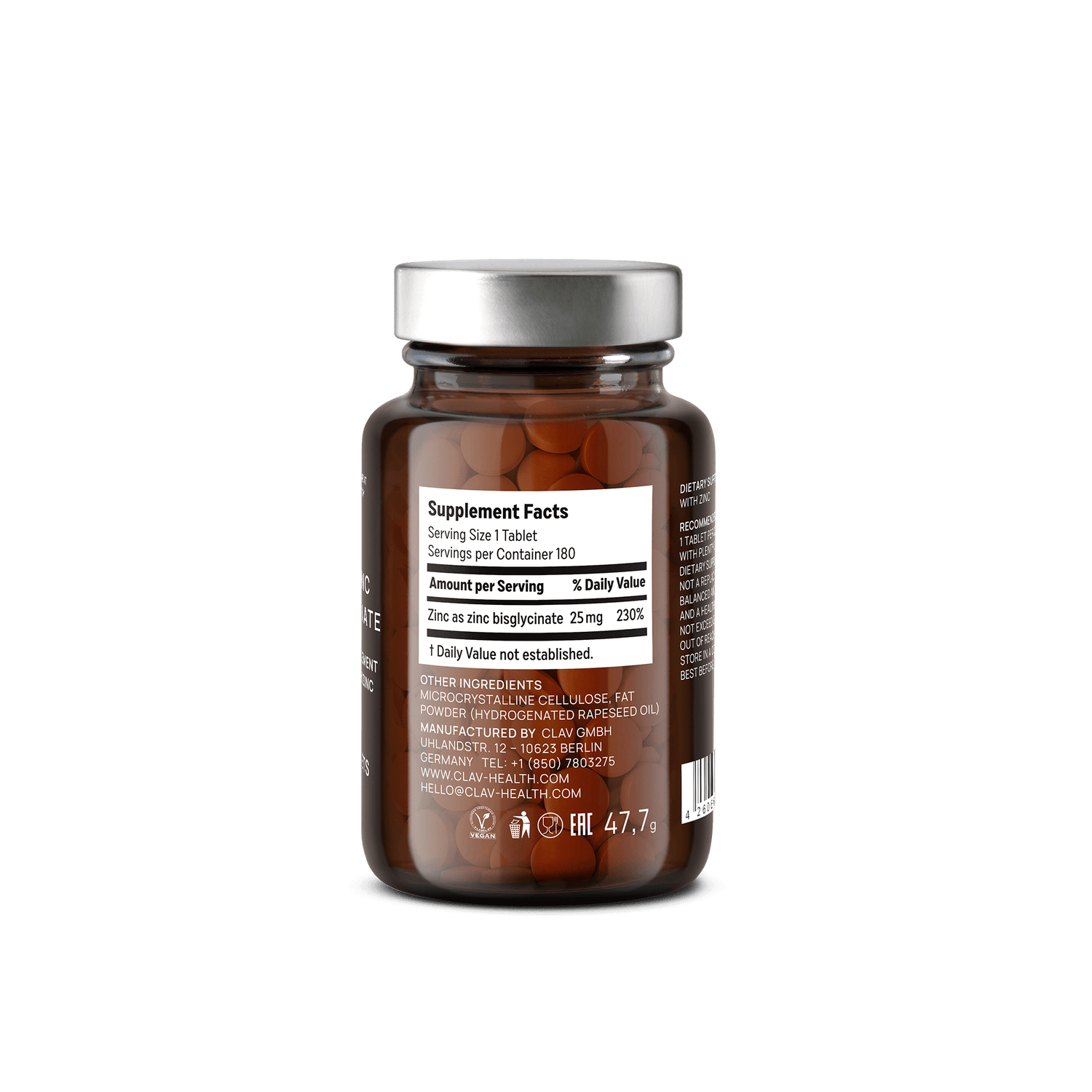 with 25mg per Tablet
180 Tablets - 180 Days
Regular price

£18.66

Sale price

£17.16

Unit price

£35.97

per

100g
Unit price

£35.97

per

100g
incl. 7% VAT shipping
With you in 2-3 working days / Within Europe & USA 5-6 days
30 Days Money Back Guarantee
High Quality Zinc Tablets
25 mg Zinc Bisglycinate per Tablet (250% NRV)
High Bioavailability due to High-Quality and Elemental Zinc Bisglycinate
Particularly well-tolerated Zinc Chelate Complex
Zinc supports, among other things, the Function of the Immune System & of the Metabolism.
Zinc ensures the preservation of Skin, Hair & Nails
100% vegan with official V-Label certificate
Free from lactose, gluten, genetic engineering and unwanted additives.
Recyclable glass bottle
Laboratory-tested quality and bioavailability
Made in Germany
Product Details

What IS ZINC?

Zinc is an essential trace element that the body cannot produce itself. This means that we have to cover our daily requirement of zinc through food and that too because we only carry a small storage of zinc in our bodies. Since it is not always easy to get nutrient-rich food on the plate in our often busy everyday lives or the need is sometimes increased due to stress, CLAV can protect you from a zinc deficiency. With our zinc tablets, you don't have to worry about your zinc balance.

What do you need zinc for? As a component of many enzymes, zinc is essential for your body's basic functions: whether for wound healing, cell division, regulating your blood sugar level, carbohydrate and fatty acid metabolism or strengthening your immune system. Zinc also influences fertility and helps maintain healthy skin, hair and nails.

To ensure that the absorbed zinc is also optimally available, we have chosen zinc bisgylcinate. The zinc chelate complex is very well tolerated and has a comparatively higher bioavailability than other pure zinc nutrients.

The most important functions of zinc at a glance

.

Zinc is a mineral, strictly speaking an essential trace element. This means that it is only needed in small quantities, but is nevertheless essential for the body. If you look at its many functions, it quickly becomes clear why it is so important for the organism.

Zinc performs the following functions in the body. Zinc:

Contributes to the maintenance of normal skin, hair and nails
Contributes to the normal function of the immune system
contributes to protecting cells from oxidative stress
contributes to normal carbohydrate metabolism
contributes to a normal fatty acid metabolism
contributes to normal cognitive function
contributes to the maintenance of normal bone and vision
contributes to normal vitamin A metabolism
contributes to normal DNA synthesis and cell division function
contributes to normal protein synthesis and fertility

Why should i buy zinc bisglycinate?

The mineral zinc is a building block of many enzymes and is therefore involved in a whole range of biological processes such as wound healing, immune defence and fertility. An insufficient supply can be caused by diet, chronic intestinal diseases or by an increased need, as is the case with athletes or pregnant women. Even with a vegan or vegetarian diet, too little zinc can reach the body due to the high phytate intake. In this case it can be useful to buy zinc tablets to supplement the diet.

High-dose zinc always comes in a complex in tablets or capsules. It has been shown that zinc bisglycinate has a high bioavailability. This is an organic compound in which zinc is linked to the amino acid glycine. This compound, also called chelate, protects the zinc from substances that inhibit absorption, such as phytate. For this reason, zinc bisglycinate is a recommended product for dietary supplementation in cases of insufficient zinc supply.

UNCOMPLICATED INTAKE

For optimum effect, 1 zinc tablet should be taken daily, unchewed with liquid. Do not exceed the recommended daily intake.

HOW TO STORE CLAV ZINC TABLETS TO TAKE THE BEST

If possible, store the tablets in a dry place, away from direct sunlight and out of the reach of children. CLAV ZINK TABLETS must not be used after the expiry date stated on the packaging.

INGREDIENTS

Nutritional values per daily portion (1 tablet)

Vitamin C

Zinc bisglycinate

25 mg (250%)


*Nutrient Reference Value (NRV)
FAQ

When and how should I take the product?

We recommend taking our products with a meal and a glass of water. The intake time depends on the product and you will find the exact recommendations on each package.

Are there any known intolerances?

We are not aware of any intolerances, but we cannot rule out individual intolerances. Please adhere to our recommended intake.

Can the capsules be opened? (e.g. if it is difficult to swallow)

The capsule can also be opened and the contents can be taken without the capsule shell
Please do not expose the contents to excessive heat
avoid acidic drinks
consume immediately after opening the capsule

Tip for swallowing difficulties:

Place the capsule in your mouth with enough water and tilt your head slightly forward towards your chest. Even if you don't expect it, taking it this way is many times easier.

When can I expect to see an effect?

Each of our products addresses different needs and pursues different modes of action and goals. Basically, dietary supplements are not medicines. For a sensible supplement to a healthy lifestyle, we recommend taking the products for at least 1 up to 3 months.

What happens if I don't notice any effect?

If you don't notice anything, it doesn't mean the ingredients aren't working. Everything we ingest has an effect that we don't necessarily feel immediately. We pay a lot of attention to the quality of our ingredients, their bioavailability and combination.

Can I combine CLAV products?

Our products are all:

basically well to combine
very balanced and holistic in their approach
developed to provide you with the different life situations, needs and goals
containing highly bioavailable ingredients

You can contact us directly for all individual combinations and we will be happy to advise you personally.
Shipping & Return

Free shipping within Germany starts from 29 EUR order value (3.80 EUR in all other cases)
Delivery Flat Rate within the EU for 6.90 EUR
Flat Rate Delivery outside the EU for 25 EUR (additional customs duties and fees may apply)
30 Days Return Policy.
30 Days Money Back Guarantee on one item from one order, even after opening and trying the product! Only applicable once per customer.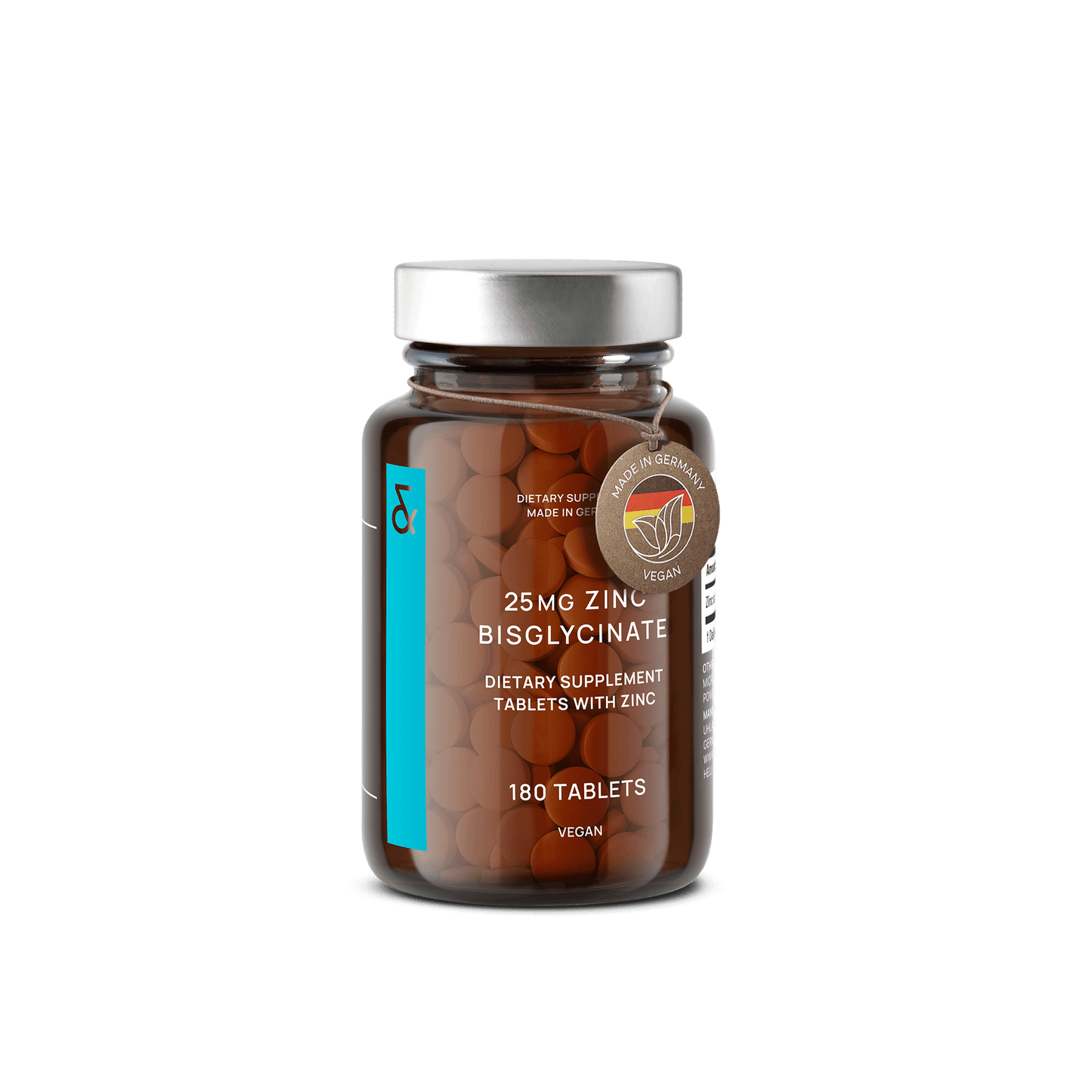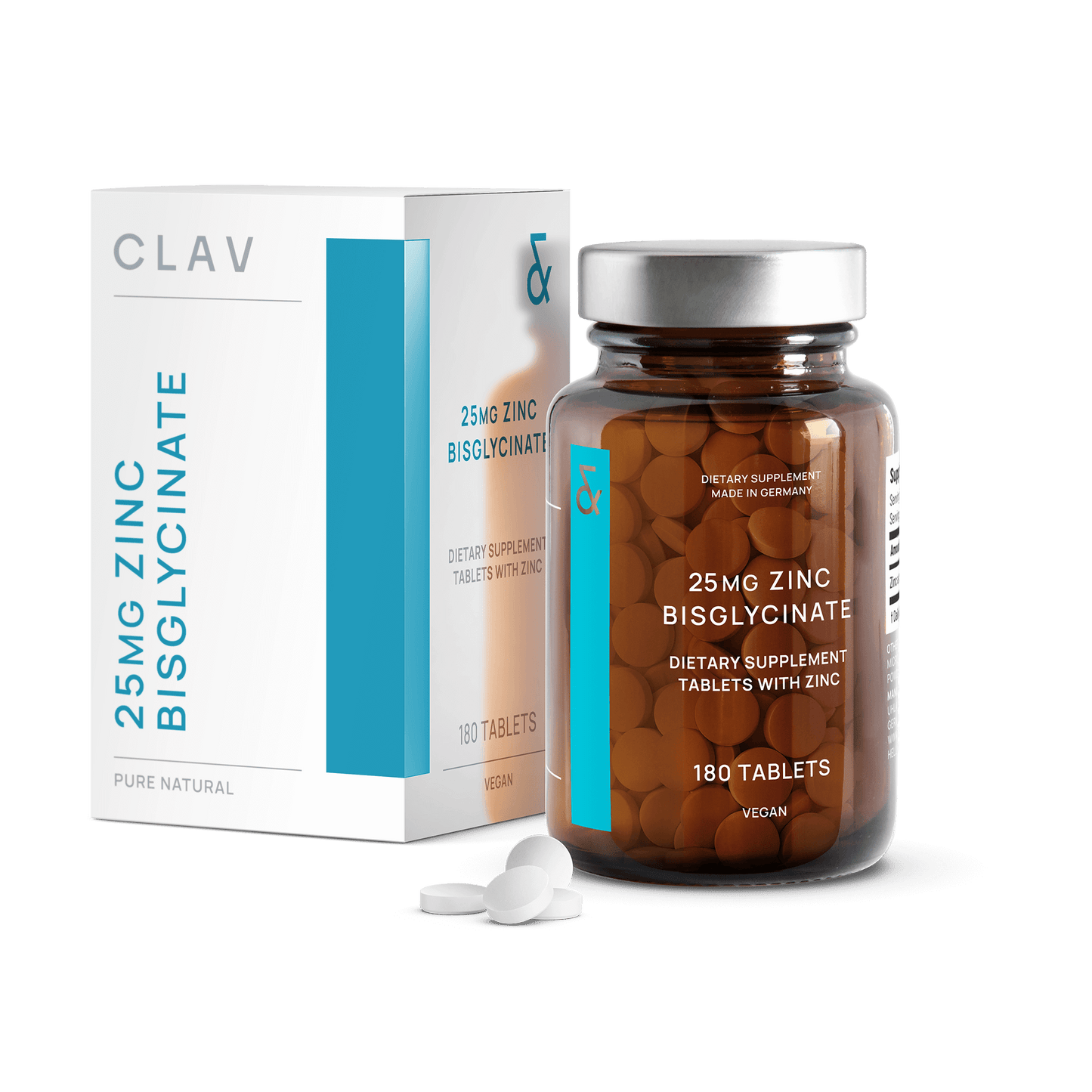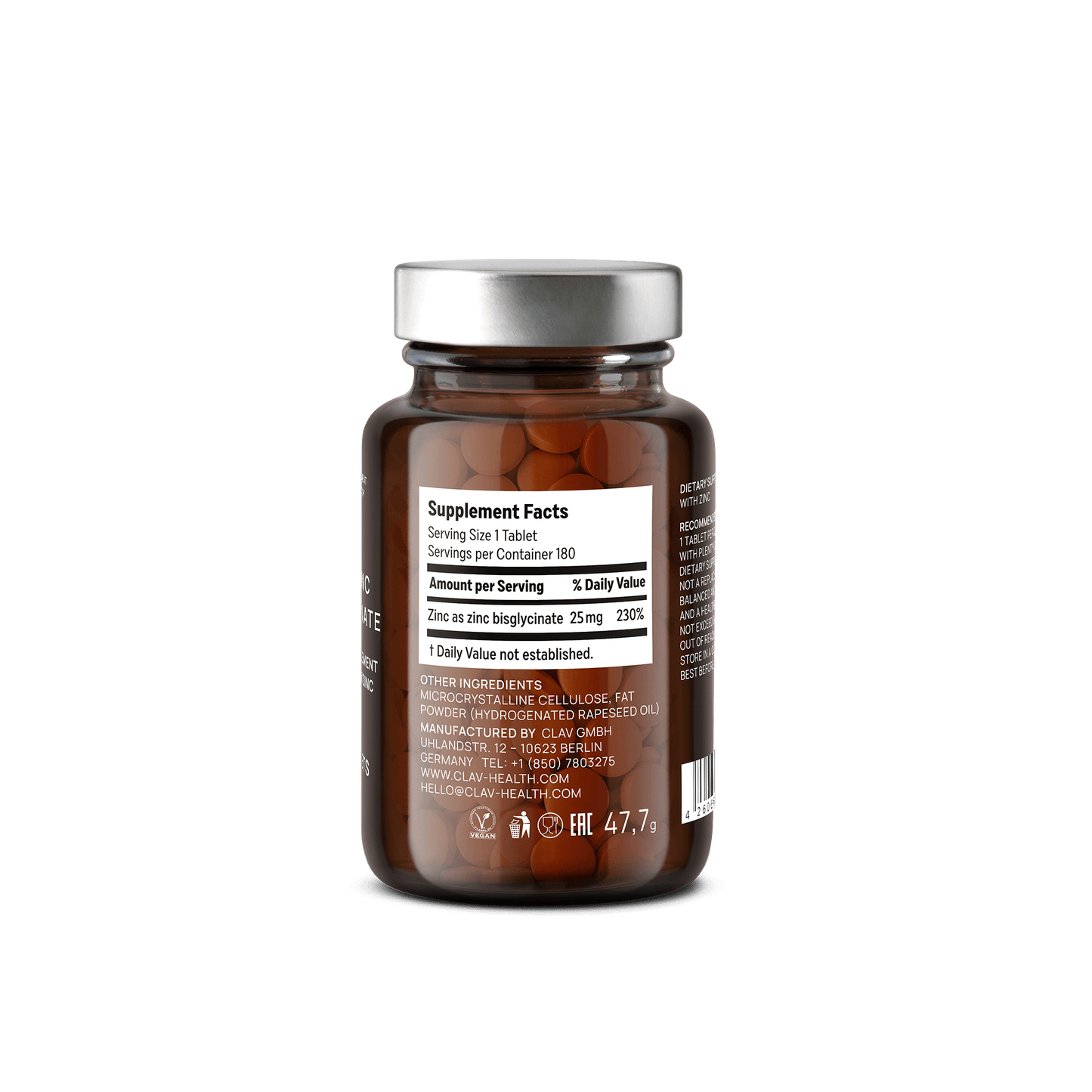 What IS ZINC?
Zinc is an essential trace element that the body cannot produce itself. This means that we have to cover our daily requirement of zinc through food and that too because we only carry a small storage of zinc in our bodies. Since it is not always easy to get nutrient-rich food on the plate in our often busy everyday lives or the need is sometimes increased due to stress, CLAV can protect you from a zinc deficiency. With our zinc tablets, you don't have to worry about your zinc balance.
What do you need zinc for? As a component of many enzymes, zinc is essential for your body's basic functions: whether for wound healing, cell division, regulating your blood sugar level, carbohydrate and fatty acid metabolism or strengthening your immune system. Zinc also influences fertility and helps maintain healthy skin, hair and nails.
To ensure that the absorbed zinc is also optimally available, we have chosen zinc bisgylcinate. The zinc chelate complex is very well tolerated and has a comparatively higher bioavailability than other pure zinc nutrients.
The most important functions of zinc at a glance
.
Zinc is a mineral, strictly speaking an essential trace element. This means that it is only needed in small quantities, but is nevertheless essential for the body. If you look at its many functions, it quickly becomes clear why it is so important for the organism.
Zinc performs the following functions in the body. Zinc:
Contributes to the maintenance of normal skin, hair and nails
Contributes to the normal function of the immune system
contributes to protecting cells from oxidative stress
contributes to normal carbohydrate metabolism
contributes to a normal fatty acid metabolism
contributes to normal cognitive function
contributes to the maintenance of normal bone and vision
contributes to normal vitamin A metabolism
contributes to normal DNA synthesis and cell division function
contributes to normal protein synthesis and fertility
Why should i buy zinc bisglycinate?
The mineral zinc is a building block of many enzymes and is therefore involved in a whole range of biological processes such as wound healing, immune defence and fertility. An insufficient supply can be caused by diet, chronic intestinal diseases or by an increased need, as is the case with athletes or pregnant women. Even with a vegan or vegetarian diet, too little zinc can reach the body due to the high phytate intake. In this case it can be useful to buy zinc tablets to supplement the diet.
High-dose zinc always comes in a complex in tablets or capsules. It has been shown that zinc bisglycinate has a high bioavailability. This is an organic compound in which zinc is linked to the amino acid glycine. This compound, also called chelate, protects the zinc from substances that inhibit absorption, such as phytate. For this reason, zinc bisglycinate is a recommended product for dietary supplementation in cases of insufficient zinc supply.
UNCOMPLICATED INTAKE
For optimum effect, 1 zinc tablet should be taken daily, unchewed with liquid. Do not exceed the recommended daily intake.
HOW TO STORE CLAV ZINC TABLETS TO TAKE THE BEST
If possible, store the tablets in a dry place, away from direct sunlight and out of the reach of children. CLAV ZINK TABLETS must not be used after the expiry date stated on the packaging.
INGREDIENTS
Nutritional values per daily portion (1 tablet)

Vitamin C

Zinc bisglycinate

25 mg (250%)


*Nutrient Reference Value (NRV)