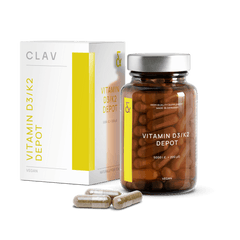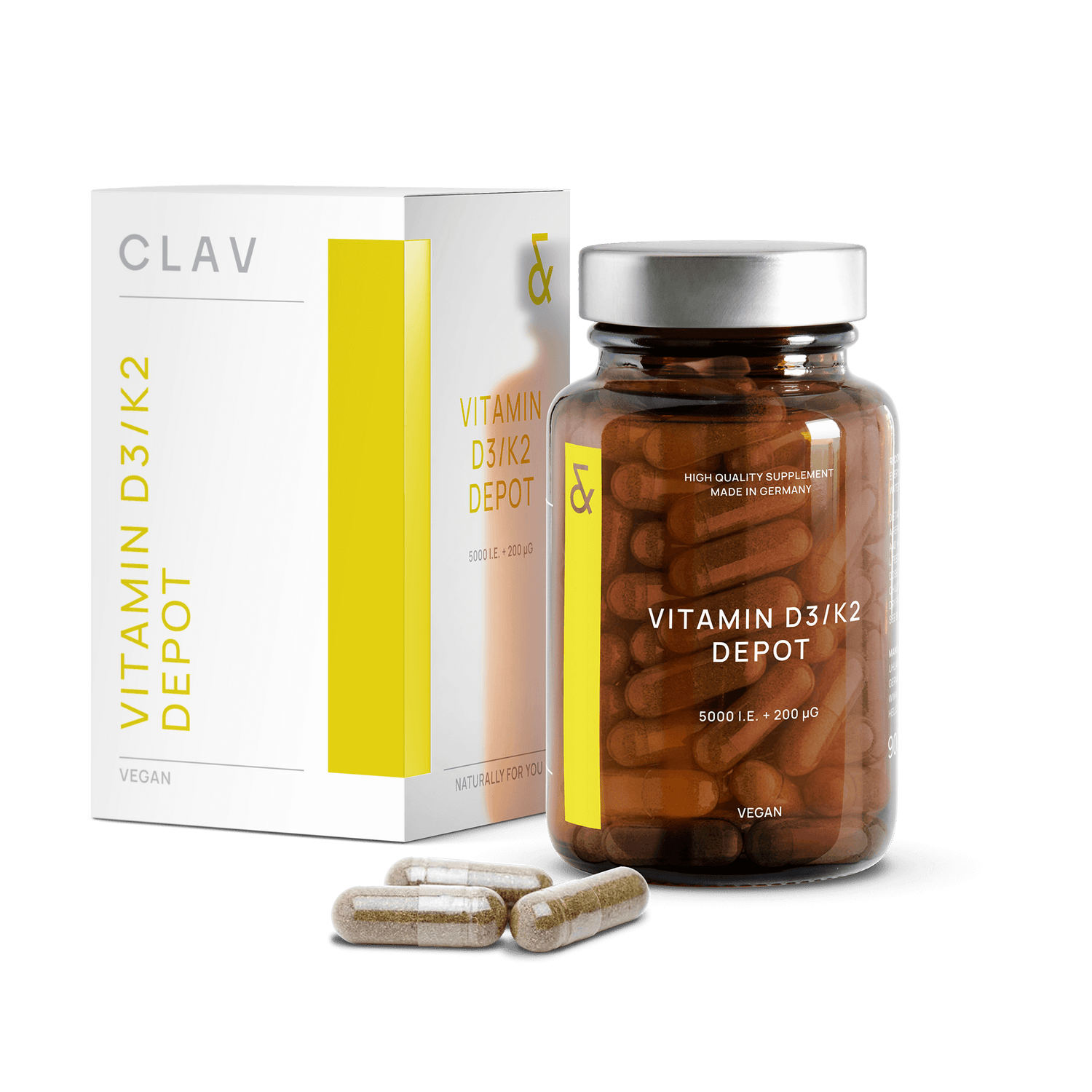 with 5000 I.U. D3 + 200mcg K2
90 Capsules - Annual Supply
Regular price

£22.41

Sale price

£22.41

Unit price

£71.14

per

100g
Unit price

£71.14

per

100g
incl. 7% VAT shipping
With you in 2-3 working days / Within Europe & USA 5-6 days
30 Days Money Back Guarantee
VITAMIN D3 K2 capsules
Highly dosed vitamin D3 K2 as a depot, ideal for permanent supply
Contains 125 MCG of highly available vitamin D3 (cholecalciferol) per capsule, equivalent to 5000 I.U.
Supplemented by 200 MCG vitamin K2 (menaquinone MK-7).
Easy intake of only one capsule every 5 days.
Ideal support for low sun exposure or for the winter
Vitamin D for the immune system
To maintain dental and bone health, as well as for the calcium balance and cell division.
100 % vegan with official V-Label certificate.
Free from lactose, gluten, genetic engineering and undesirable additives.
Recyclable glass bottle with capsules made from plant substances.
Laboratory-tested quality and bioavailability.
Made in Germany
Product Details

What do high-dose vitamin D capsules do?

Sunshine vitamin - that's what vitamin D is also called. Because it is a very special vitamin. It is the only one that our body can form itself from precursors in the skin. For this to happen, the sun's rays, or more precisely UV-B rays, must hit the skin. From around March to October, the sun is at the right angle in this country to provide enough energy for vitamin D formation. In winter, on the other hand, our body is dependent on vitamin D stores and food. But this is not so easy, because only a few foods contain large quantities of vitamin D. These include mainly animal products such as fish.

For people who eat a vegetarian or vegan diet, this gap can be closed by vitamin D3/ K2 capsules. But the vitamins can also be used in other situations. For example, vitamin D formation in the skin decreases with age and the risk of a deficiency increases. People who rarely or never go out in the sun with their skin uncovered (e.g. if they have a sun allergy) find it difficult to meet the daily requirement of 20 µg.

But what does the body actually need vitamin D for? The best-known function of the vitamin is its contribution to the maintenance of normal bones and teeth. But it also contributes to the normal function of the immune system, has a function in cell division and supports the normal absorption and utilisation of calcium and phosphorus. It is also important for the maintenance of normal muscle function.

Why shall i take D3 and K2 together?

The fatty vitamin D (calciferol) is divided into vitamin D2 (ergocalciferol) and D3 (cholecalciferol). Both are active compounds with comparable effects in humans, but vitamin D2 has only 25 to 30 percent of the biological activity of vitamin D3. Vitamin D2 is usually found in plant products and vitamin D3 in animal products.

Vitamin K is also not just one compound, but a variety of similar molecules. Vitamin K1, for example, is found in green leafy vegetables, vitamin K2 (menaquinones) in fermented products and vitamin K3 can only be produced chemically. There are 14 different forms of vitamin K2 alone. Compared to K1, which is mainly found in the liver, the highly effective form vitamin K2 MK-7 accumulates better in various tissues. In the body, vitamin K contributes to both normal blood clotting and the maintenance of normal bones.

If vitamin D3 is taken in high doses, then vitamin K2 MK-7 should not be missing, because otherwise a vitamin K deficiency could occur. The positive influence of vitamin D on the incorporation of calcium into the bones can then even be reversed. In addition, it is assumed that the vitamins in combination prevent plaque deposits in the blood vessels, which can result from high doses of vitamin D. That is why we are convinced of vitamin D3/ K2 capsules in combination, because they offer a possibility for well thought-out vitamin D supplementation.

Vitamin D3/ K2 capsules highly dosed by CLAV

.

We at CLAV have set ourselves the task of developing vitamin D3/ K2 vegan capsules with biologically highly active vitamin forms in high doses. Here we focus on the combination of vegan vitamin D3 and K2 MK-7 (menaquinone-7). A perfect combination for your health.

But how can vitamin D3, which is usually only found in animal products, be vegan? The answer: the highly effective vitamin D3 is obtained from lichens by irradiation with UV radiation. Lichens are a combination of fungi and algae and are naturally vegan. In principle, the process that happens in your skin in summer is simulated by the irradiation.

To ensure that our tablets are truly vegan, we do not use animal products such as gelatine in the capsules or animal testing. Not only animal welfare is close to our hearts, but also a conscious use of resources. Our vitamin D3/ K2 capsules are therefore protected in recycled amber glass. Furthermore, our production and storage facilities are all certified organic and for the best quality of the products we rely on "Made in Germany".

The vitamin D3/ K2 capsules from CLAV are highly dosed and therefore an optimal depot. Both vitamins are fat-free and can be stored in the liver. A daily supplement is therefore not necessary. Each capsule contains 5000 I.U. vitamin D3 and 200 µg vitamin K2 MK-7. We recommend taking one capsule every 5 days with sufficient liquid and a meal.

EASY INTAKE

For optimal effect, 1 capsule should be taken every 5 days as a depot, unchewed with liquid. Do not exceed the recommended daily intake.

HOW TO STORE CLAV VITAMIN D3 K2

If possible, store the capsules in a dry place, away from direct sunlight and inaccessible to children.

CLAV VITAMIN D3 K2 shall not be used after the expiration date stated on the packaging.

INGREDIENTS:

Nutritional Values per Capsule

Vitamin K2

200 μg (267%*)

Vitamin D3

125 μg (2500%*)


*Nutrient Reference Value (NRV)
FAQ

When and how should I take the product?

We recommend taking our products with a meal and a glass of water. The intake time depends on the product and you will find the exact recommendations on each package.

Are there any known intolerances?

We are not aware of any intolerances, but we cannot rule out individual intolerances. Please adhere to our recommended intake.

Can the capsules be opened? (e.g. if it is difficult to swallow)

The capsule can also be opened and the contents can be taken without the capsule shell
Please do not expose the contents to excessive heat
avoid acidic drinks
consume immediately after opening the capsule

Tip for swallowing difficulties:

Place the capsule in your mouth with enough water and tilt your head slightly forward towards your chest. Even if you don't expect it, taking it this way is many times easier.

When can I expect to see an effect?

Each of our products addresses different needs and pursues different modes of action and goals. Basically, dietary supplements are not medicines. For a sensible supplement to a healthy lifestyle, we recommend taking the products for at least 1 up to 3 months.

What happens if I don't notice any effect?

If you don't notice anything, it doesn't mean the ingredients aren't working. Everything we ingest has an effect that we don't necessarily feel immediately. We pay a lot of attention to the quality of our ingredients, their bioavailability and combination.

Can I combine CLAV products?

Our products are all:

basically well to combine
very balanced and holistic in their approach
developed to provide you with the different life situations, needs and goals
containing highly bioavailable ingredients

You can contact us directly for all individual combinations and we will be happy to advise you personally.
Shipping & Return

Free shipping within Germany starts from 29 EUR order value (3.80 EUR in all other cases)
Delivery Flat Rate within the EU for 6.90 EUR
Flat Rate Delivery outside the EU for 25 EUR (additional customs duties and fees may apply)
30 Days Return Policy.
30 Days Money Back Guarantee on one item from one order, even after opening and trying the product! Only applicable once per customer.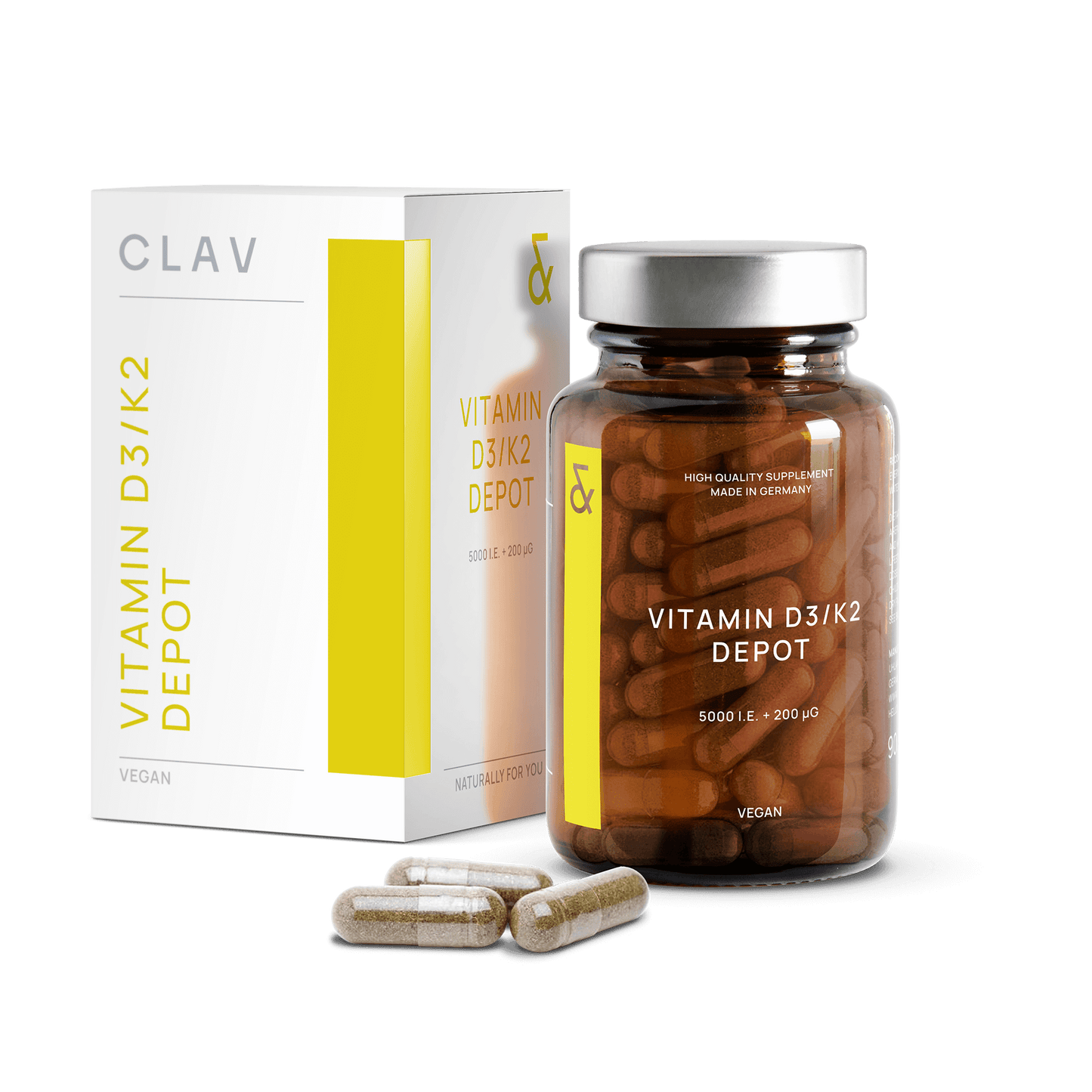 What do high-dose vitamin D capsules do?
Sunshine vitamin - that's what vitamin D is also called. Because it is a very special vitamin. It is the only one that our body can form itself from precursors in the skin. For this to happen, the sun's rays, or more precisely UV-B rays, must hit the skin. From around March to October, the sun is at the right angle in this country to provide enough energy for vitamin D formation. In winter, on the other hand, our body is dependent on vitamin D stores and food. But this is not so easy, because only a few foods contain large quantities of vitamin D. These include mainly animal products such as fish.
For people who eat a vegetarian or vegan diet, this gap can be closed by vitamin D3/ K2 capsules. But the vitamins can also be used in other situations. For example, vitamin D formation in the skin decreases with age and the risk of a deficiency increases. People who rarely or never go out in the sun with their skin uncovered (e.g. if they have a sun allergy) find it difficult to meet the daily requirement of 20 µg.
But what does the body actually need vitamin D for? The best-known function of the vitamin is its contribution to the maintenance of normal bones and teeth. But it also contributes to the normal function of the immune system, has a function in cell division and supports the normal absorption and utilisation of calcium and phosphorus. It is also important for the maintenance of normal muscle function.
Why shall i take D3 and K2 together?
The fatty vitamin D (calciferol) is divided into vitamin D2 (ergocalciferol) and D3 (cholecalciferol). Both are active compounds with comparable effects in humans, but vitamin D2 has only 25 to 30 percent of the biological activity of vitamin D3. Vitamin D2 is usually found in plant products and vitamin D3 in animal products.
Vitamin K is also not just one compound, but a variety of similar molecules. Vitamin K1, for example, is found in green leafy vegetables, vitamin K2 (menaquinones) in fermented products and vitamin K3 can only be produced chemically. There are 14 different forms of vitamin K2 alone. Compared to K1, which is mainly found in the liver, the highly effective form vitamin K2 MK-7 accumulates better in various tissues. In the body, vitamin K contributes to both normal blood clotting and the maintenance of normal bones.
If vitamin D3 is taken in high doses, then vitamin K2 MK-7 should not be missing, because otherwise a vitamin K deficiency could occur. The positive influence of vitamin D on the incorporation of calcium into the bones can then even be reversed. In addition, it is assumed that the vitamins in combination prevent plaque deposits in the blood vessels, which can result from high doses of vitamin D. That is why we are convinced of vitamin D3/ K2 capsules in combination, because they offer a possibility for well thought-out vitamin D supplementation.
Vitamin D3/ K2 capsules highly dosed by CLAV
.
We at CLAV have set ourselves the task of developing vitamin D3/ K2 vegan capsules with biologically highly active vitamin forms in high doses. Here we focus on the combination of vegan vitamin D3 and K2 MK-7 (menaquinone-7). A perfect combination for your health.
But how can vitamin D3, which is usually only found in animal products, be vegan? The answer: the highly effective vitamin D3 is obtained from lichens by irradiation with UV radiation. Lichens are a combination of fungi and algae and are naturally vegan. In principle, the process that happens in your skin in summer is simulated by the irradiation.
To ensure that our tablets are truly vegan, we do not use animal products such as gelatine in the capsules or animal testing. Not only animal welfare is close to our hearts, but also a conscious use of resources. Our vitamin D3/ K2 capsules are therefore protected in recycled amber glass. Furthermore, our production and storage facilities are all certified organic and for the best quality of the products we rely on "Made in Germany".
The vitamin D3/ K2 capsules from CLAV are highly dosed and therefore an optimal depot. Both vitamins are fat-free and can be stored in the liver. A daily supplement is therefore not necessary. Each capsule contains 5000 I.U. vitamin D3 and 200 µg vitamin K2 MK-7. We recommend taking one capsule every 5 days with sufficient liquid and a meal.
EASY INTAKE
For optimal effect, 1 capsule should be taken every 5 days as a depot, unchewed with liquid. Do not exceed the recommended daily intake.
HOW TO STORE CLAV VITAMIN D3 K2
If possible, store the capsules in a dry place, away from direct sunlight and inaccessible to children.
CLAV VITAMIN D3 K2 shall not be used after the expiration date stated on the packaging.
INGREDIENTS:
Nutritional Values per Capsule

Vitamin K2

200 μg (267%*)

Vitamin D3

125 μg (2500%*)


*Nutrient Reference Value (NRV)