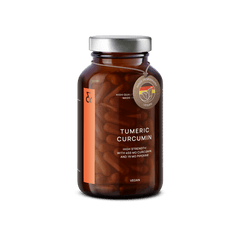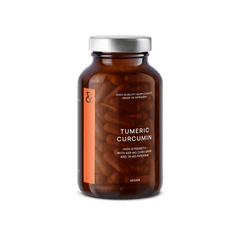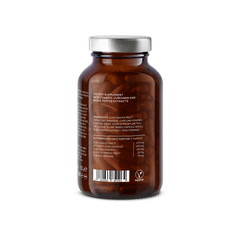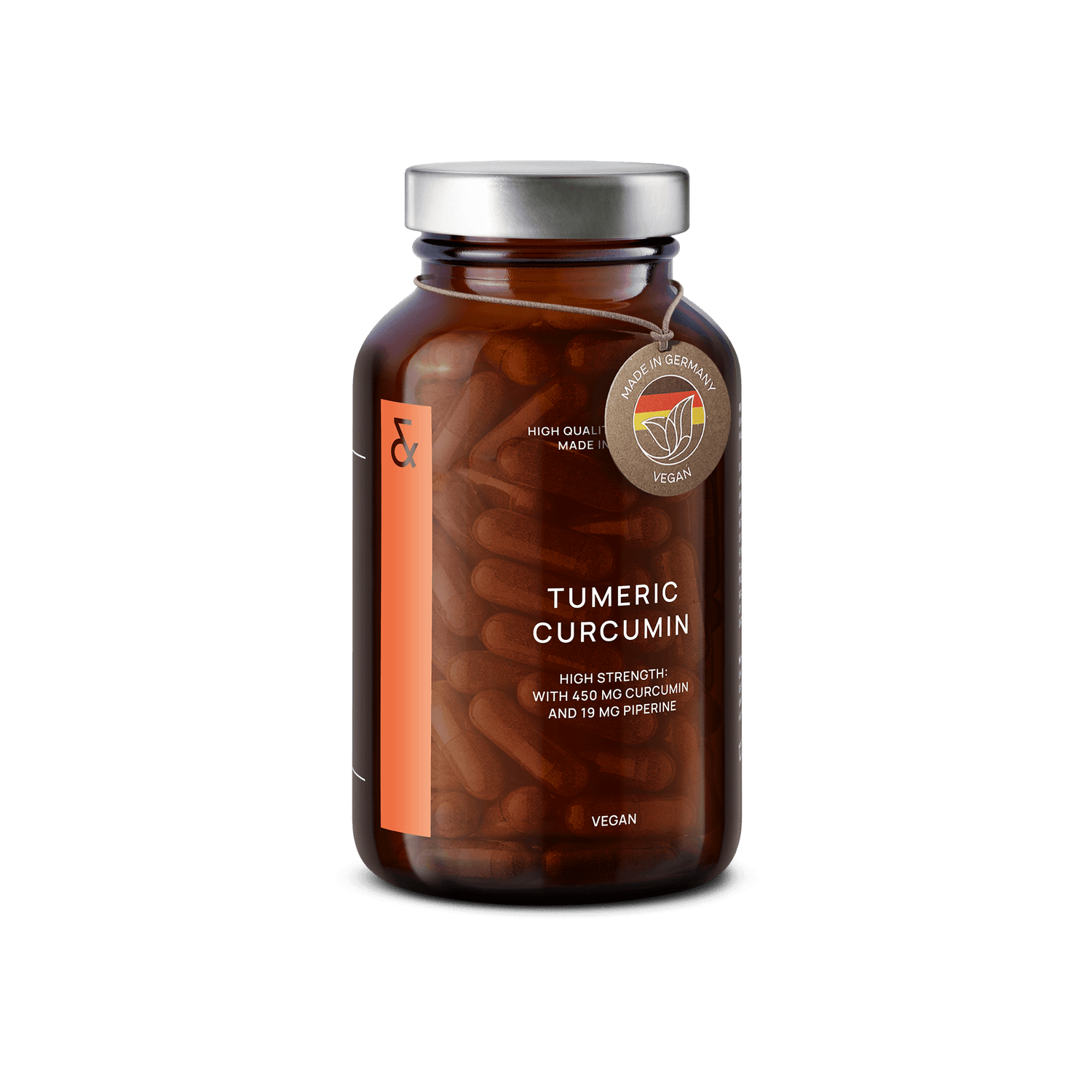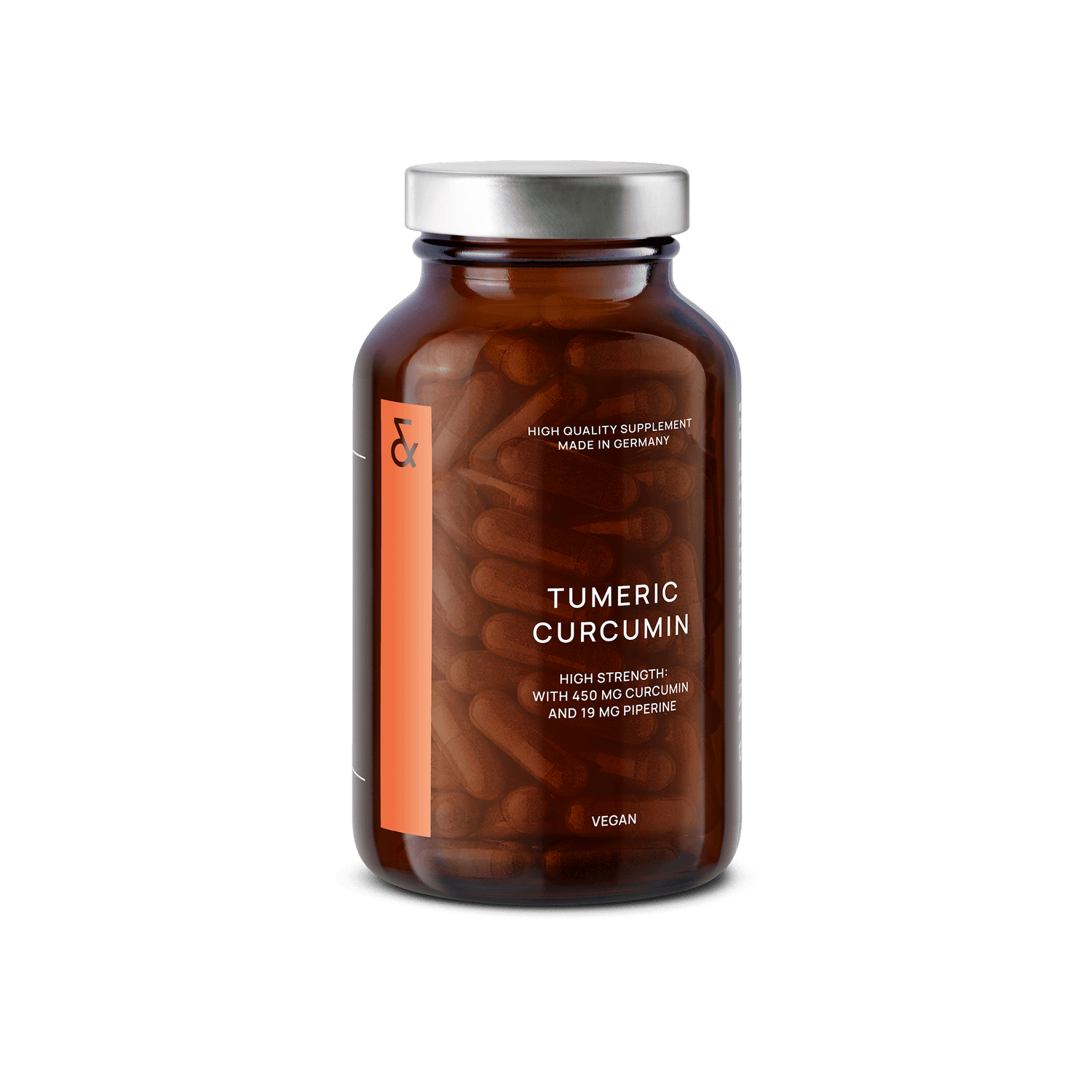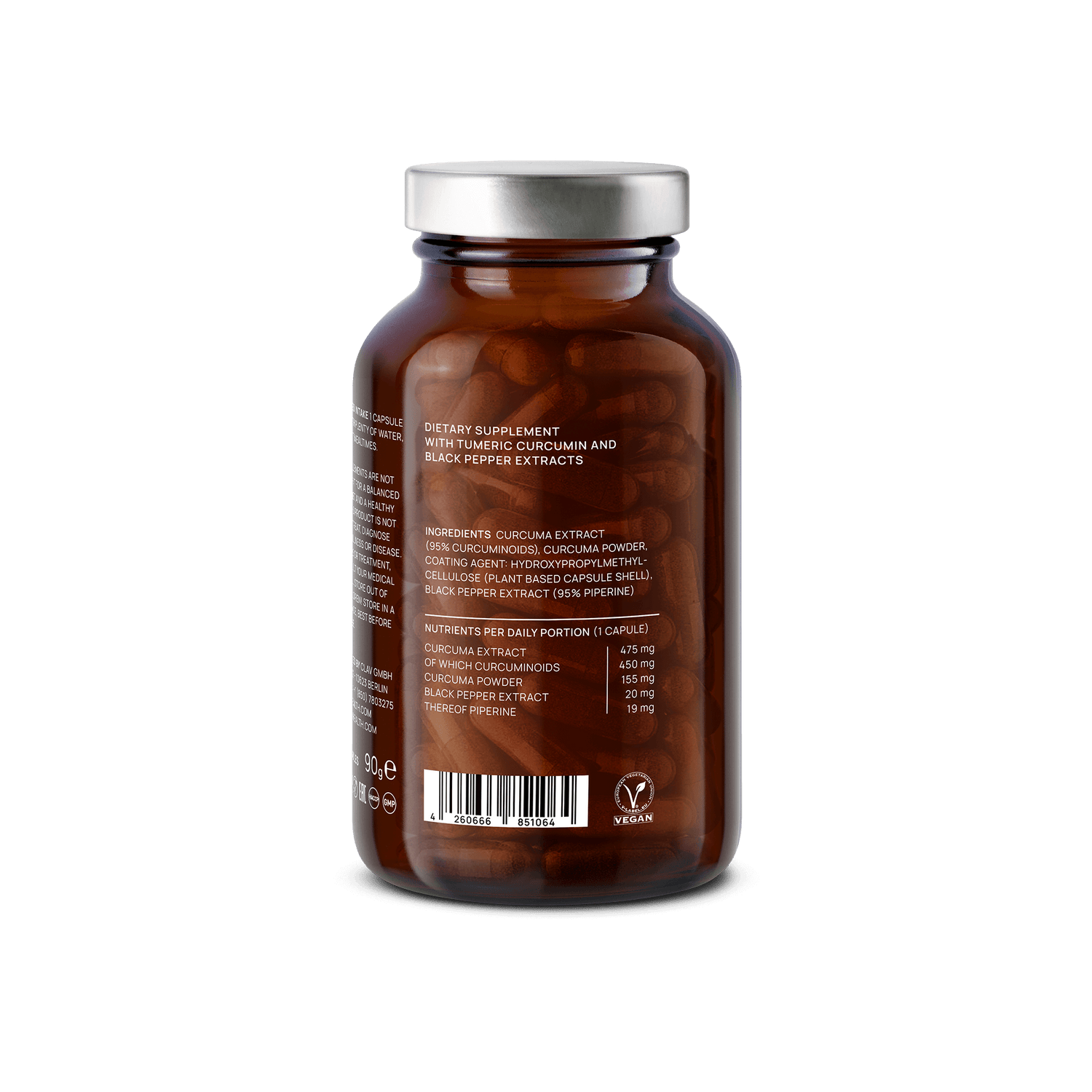 with Piperine
120 Capsules - 120 Days
Regular price

£37.40

Sale price

£37.40

Unit price

£41.56

per

100g
Unit price

£41.56

per

100g
incl. 7% VAT shipping
With you in 2-3 working days / Within Europe & USA 5-6 days
30 Days Money Back Guarantee
High-dose curcuma extract from the turmeric root.
With 450 mg of highly pure curcumin, the most important active ingredient of the ginger spice.
Ideal combination of turmeric with black pepper extract.
With 19 mg of contained piperine and valuable essential oils.
Very wide field of application
100 % vegan with official V-Label certificate
Free from lactose, gluten, genetic engineering and unwanted additives
Recyclable glass bottle with capsules made from botanicals.
Laboratory-tested quality and bioavailability
Made in Germany
Product Details

Turmeric capsules - turmeric, a traditional remedy

.

Turmeric has been known in its native Southeast Asia for about 4,000 years. In traditional India, the root is even considered sacred and is still used today as a spice and in the healing arts. In Ayurveda, turmeric plays an important role as a cleansing and healing natural remedy. The traditional spice is said to alleviate blisters and veins, for example.

Turmeric reached Europe as early as the Middle Ages and was also valued here as a spice, medicinal plant and herb. The root owes its second name, "Indian saffron", to its herbal properties. Today, turmeric can be bought as a tuber, powder or in high doses in curcumin capsules. Turmeric extract capsules with a calculable dosage for safe intake are also available.

In the past, people relied on their experience for medicinal plants like turmeric. In the modern world, we have scientific means of investigation at our disposal. Over the last few decades, a lot has been discovered about turmeric: Botanically, turmeric is closely related to ginger. The useful ingredients of turmeric extract have been identified as various essential oils and curcuminoids. The latter are secondary plant compounds whose main component is curcumin. Its effect is being further investigated in a number of scientific studies. So far, there are indications from cell culture studies of anti-inflammatory properties.

Turmeric capsules - what does turmeric with black pepper do?

Black pepper, like turmeric, is a spice that has been used for a long time and is probably the most popular in the world. It owes its pungent taste to the secondary plant substance piperine. In the past, black pepper was not only used as a spice, but was also an integral part of traditional medicine in Asia as well as in Europe. Today, it is known that piperine can improve the bioavailability of some nutrients and is therefore included in some dietary supplement products.

Curcumin from turmeric powder, but also from some curcumin capsules, has a low bioavailability. This means that the secondary plant compounds can only be poorly absorbed by the gastrointestinal tract. Thus, a large part is excreted unused. Piperine, the main component of black pepper, can increase the bioavailability of curcumin capsules about 20-fold. So the amount of curcuminoids that reach the body is significantly increased by black pepper in a natural way. Other attempts to increase the bioavailability of turmeric are more complex. For example, in some turmeric capsules the plant substance is combined with artificially produced particles or complexes.

Turmeric capsules - guaranteed 450 mg curcumin per capsule

.

In order to obtain a sufficiently high curcumin concentration in the target tissue, not only the bioavailability of the turmeric capsules plays a role, but also the amount contained per capsule. If only small amounts are taken, then the capsules will hardly be able to show any effect. But too high a concentration is also seen critically. The European Food Safety Authority (EFSA) sees the daily maximum limit at 3 mg curcumin per kg body weight in adults. However, side effects such as nausea have been reported even with a curcumin intake of 12 g, for example.

For a known dosage, you should buy turmeric extract. This is because the amount of curcumin contained can be precisely determined. This is not always possible with capsules made from turmeric powder. Low dosages or even a completely unknown curcumin content are the result.

Curcuma extract capsules from CLAV provide at least 450 mg curcumin per capsule in combination with 19 mg piperine, which naturally increases absorption. The known amount of active ingredient allows for targeted use. Uncomplicated, highly dosed, 100 % vegan and safe.

Ingredients

.

Nutritional values per daily portion (1 capsule)

Curcuma extract

475mg

of which curcumin

450mg

Curcuma powder

155mg

Black pepper extract

20mg

of which piperine

19mg
FAQ

When and how should I take the product?

We recommend taking our products with a meal and a glass of water. The intake time depends on the product and you will find the exact recommendations on each package.

Are there any known intolerances?

We are not aware of any intolerances, but we cannot rule out individual intolerances. Please adhere to our recommended intake.

Can the capsules be opened? (e.g. if it is difficult to swallow)

The capsule can also be opened and the contents can be taken without the capsule shell
Please do not expose the contents to excessive heat
avoid acidic drinks
consume immediately after opening the capsule

Tip for swallowing difficulties:

Place the capsule in your mouth with enough water and tilt your head slightly forward towards your chest. Even if you don't expect it, taking it this way is many times easier.

When can I expect to see an effect?

Each of our products addresses different needs and pursues different modes of action and goals. Basically, dietary supplements are not medicines. For a sensible supplement to a healthy lifestyle, we recommend taking the products for at least 1 up to 3 months.

What happens if I don't notice any effect?

If you don't notice anything, it doesn't mean the ingredients aren't working. Everything we ingest has an effect that we don't necessarily feel immediately. We pay a lot of attention to the quality of our ingredients, their bioavailability and combination.

Can I combine CLAV products?

Our products are all:

basically well to combine
very balanced and holistic in their approach
developed to provide you with the different life situations, needs and goals
containing highly bioavailable ingredients

You can contact us directly for all individual combinations and we will be happy to advise you personally.
Shipping & Return

Free shipping within Germany starts from 29 EUR order value (3.80 EUR in all other cases)
Delivery Flat Rate within the EU for 6.90 EUR
Flat Rate Delivery outside the EU for 25 EUR (additional customs duties and fees may apply)
30 Days Return Policy.
30 Days Money Back Guarantee on one item from one order, even after opening and trying the product! Only applicable once per customer.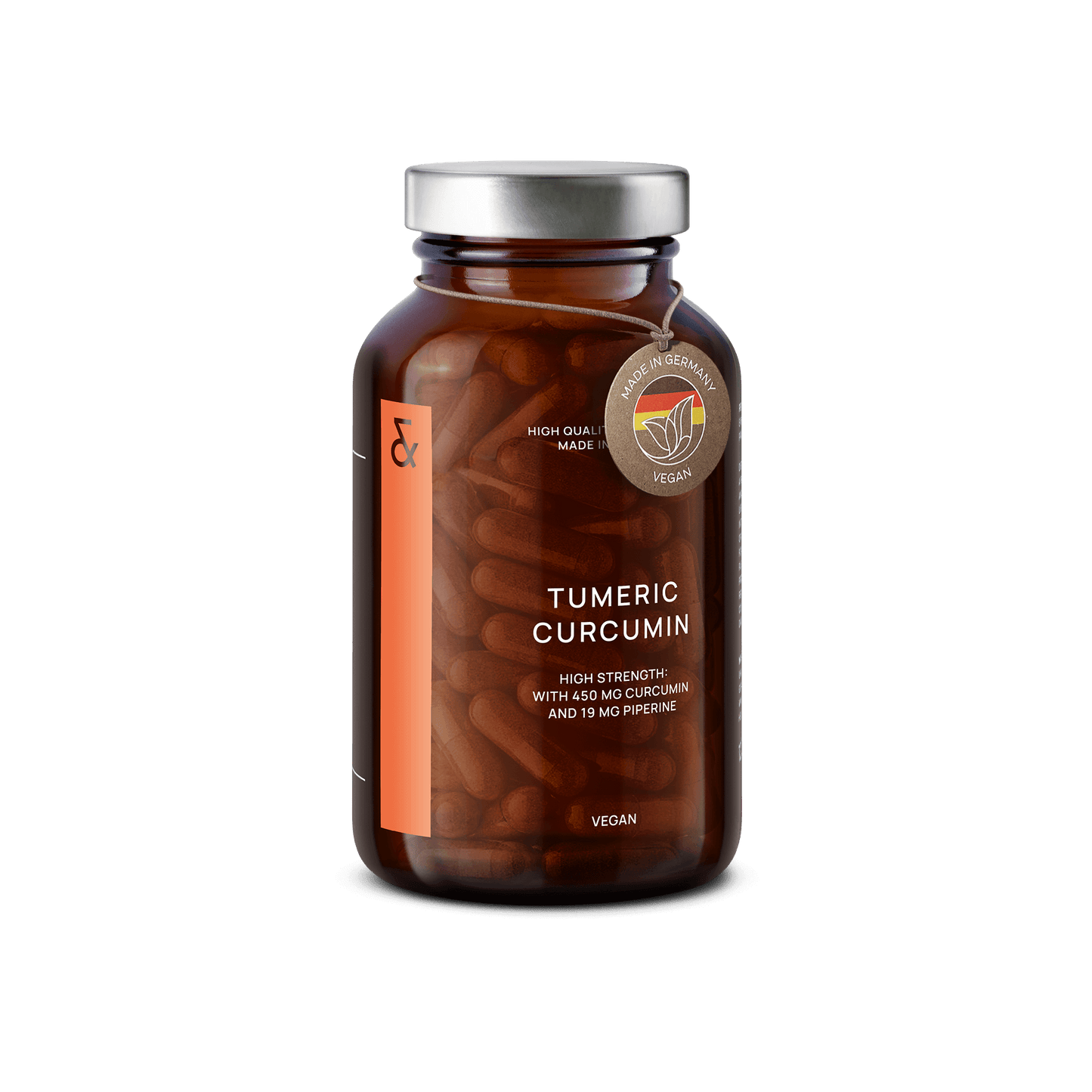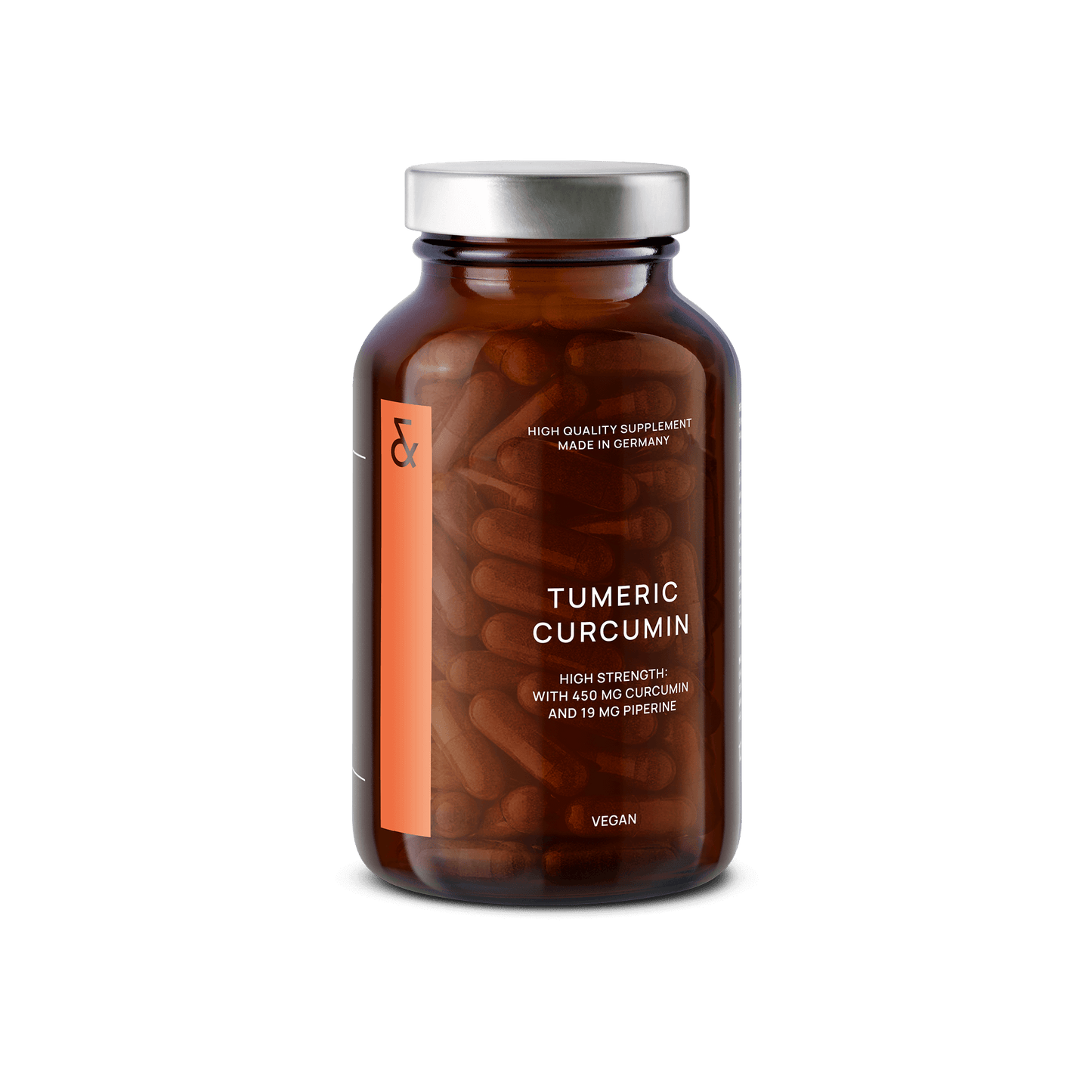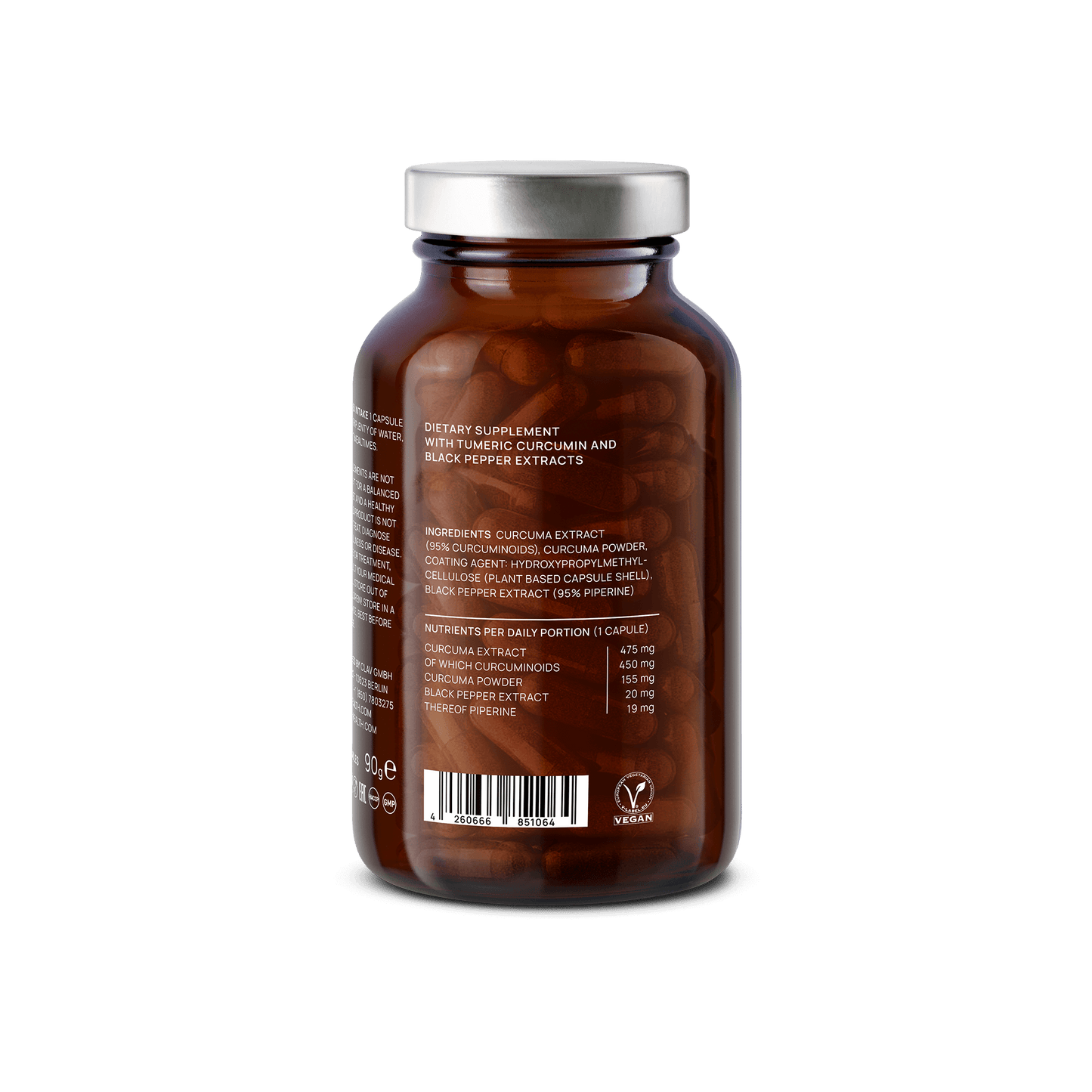 Turmeric capsules - turmeric, a traditional remedy
.
Turmeric has been known in its native Southeast Asia for about 4,000 years. In traditional India, the root is even considered sacred and is still used today as a spice and in the healing arts. In Ayurveda, turmeric plays an important role as a cleansing and healing natural remedy. The traditional spice is said to alleviate blisters and veins, for example.
Turmeric reached Europe as early as the Middle Ages and was also valued here as a spice, medicinal plant and herb. The root owes its second name, "Indian saffron", to its herbal properties. Today, turmeric can be bought as a tuber, powder or in high doses in curcumin capsules. Turmeric extract capsules with a calculable dosage for safe intake are also available.
In the past, people relied on their experience for medicinal plants like turmeric. In the modern world, we have scientific means of investigation at our disposal. Over the last few decades, a lot has been discovered about turmeric: Botanically, turmeric is closely related to ginger. The useful ingredients of turmeric extract have been identified as various essential oils and curcuminoids. The latter are secondary plant compounds whose main component is curcumin. Its effect is being further investigated in a number of scientific studies. So far, there are indications from cell culture studies of anti-inflammatory properties.
Turmeric capsules - what does turmeric with black pepper do?
Black pepper, like turmeric, is a spice that has been used for a long time and is probably the most popular in the world. It owes its pungent taste to the secondary plant substance piperine. In the past, black pepper was not only used as a spice, but was also an integral part of traditional medicine in Asia as well as in Europe. Today, it is known that piperine can improve the bioavailability of some nutrients and is therefore included in some dietary supplement products.
Curcumin from turmeric powder, but also from some curcumin capsules, has a low bioavailability. This means that the secondary plant compounds can only be poorly absorbed by the gastrointestinal tract. Thus, a large part is excreted unused. Piperine, the main component of black pepper, can increase the bioavailability of curcumin capsules about 20-fold. So the amount of curcuminoids that reach the body is significantly increased by black pepper in a natural way. Other attempts to increase the bioavailability of turmeric are more complex. For example, in some turmeric capsules the plant substance is combined with artificially produced particles or complexes.
Turmeric capsules - guaranteed 450 mg curcumin per capsule
.
In order to obtain a sufficiently high curcumin concentration in the target tissue, not only the bioavailability of the turmeric capsules plays a role, but also the amount contained per capsule. If only small amounts are taken, then the capsules will hardly be able to show any effect. But too high a concentration is also seen critically. The European Food Safety Authority (EFSA) sees the daily maximum limit at 3 mg curcumin per kg body weight in adults. However, side effects such as nausea have been reported even with a curcumin intake of 12 g, for example.
For a known dosage, you should buy turmeric extract. This is because the amount of curcumin contained can be precisely determined. This is not always possible with capsules made from turmeric powder. Low dosages or even a completely unknown curcumin content are the result.
Curcuma extract capsules from CLAV provide at least 450 mg curcumin per capsule in combination with 19 mg piperine, which naturally increases absorption. The known amount of active ingredient allows for targeted use. Uncomplicated, highly dosed, 100 % vegan and safe.
Ingredients
.
Nutritional values per daily portion (1 capsule)

Curcuma extract

475mg

of which curcumin

450mg

Curcuma powder

155mg

Black pepper extract

20mg

of which piperine

19mg