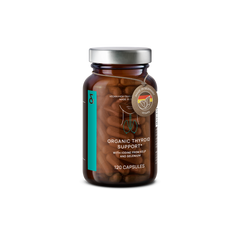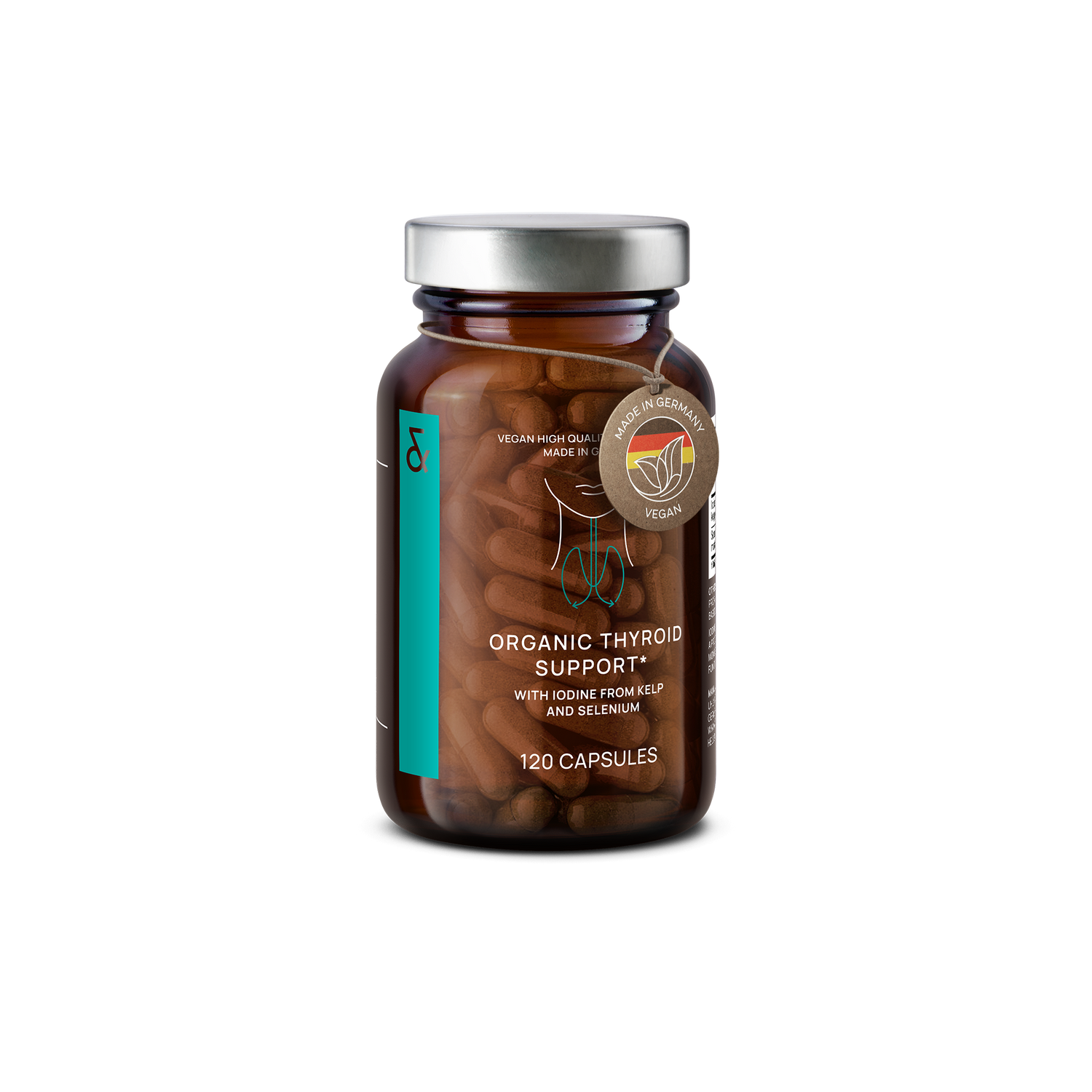 with organic Kelp + Selenium
120 Capsules - 60 Days
Regular price

£29.90

Sale price

£26.15

Unit price

per
not available
30 Days Money Back Guarantee
THYROID SUPPORT WITH ORGANIC KELP IODINE + SELENIUM
Thyroid complex with iodine to support thyroid function
The thyroid gland regulates basic bodily functions & our hormone balance
Basal metabolism, brain function, cell metabolism & heartbeat
Organic Kelp Capsules with iodine & selenium from plant sources
Selenium is important for numerous enzymes & protects our cells
Natural iodine from organic kelp for cognitive - nerve function as well as energy metabolism
Jar with 120 capsules for 4 months
100 % vegan with official V-Label certificate
Free from lactose, gluten, genetic engineering and undesirable additives
Recyclable glass bottle with capsules made from plant substances
Laboratory-tested quality and bioavailability
Made in Germany
Product Details

CLAV's Organic Thyroid Supplement - What is important to us?

We combine what is important for our thyroid hormones and thus for a balanced hormone balance: Iodine and Selenium. We use only high-quality organic brown algae powder and organic mustard seed extract. Our organic iodine comes from kelp algae (organic Ascophyllum Nodosum), which belongs to the brown algae and, together with other valuable nutrients, makes the algae a complete food. This is the first step towards high-quality organic kelp capsules.

We do not only pay attention to an intelligent combination of ingredients and their purity during the conception and production. We also support a conscious use of available resources. The Organic Thyroid Complex is 100% vegan and we do not use unnecessary fillers. We use vegan HPMC capsules and light-protected as well as environmentally friendly and recyclable glass bottles for our thyroid tablets. All free from lactose, gluten and genetic engineering.

Buy thyroid tablets - why iodine and selenium in a complex?

We have created an organic kelp capsule complex that you can take either as a cure or permanently to support your hormone balance. The combination of iodine and selenium holistically strengthens your physical and mental balance, which is significantly influenced by the hormones of the thyroid gland. Selenium and iodine are essential for the normal production of thyroid hormones and thyroid function.

One organic kelp capsule of our N°11 Thyroid Balance contains 100 mcg of iodine (100% NRV*). Iodine is important for the normal functioning of your nervous system and contributes to a normal energy-rich metabolism. However, one of the most important functions is iodine's contribution to the normal production of thyroid hormones.

In addition to organic iodine, each capsule contains 55 mcg of selenium (100% NRV*) from organic mustard seed extract. Selenium is not only important for a well-functioning physical defence and your immune system. Like iodine, it contributes to normal thyroid function (and also supports healthy skin and sperm formation - perhaps good to know!).

Why do we combine these two minerals? Because this allows a needed building block (iodine) to cooperate with an important cofactor (selenium) - your hormone balance will thank you!

What does the thyroid gland do?

In order for our thyroid gland to work, it needs material. The organic iodine it contains is part of this. The organic iodine from organic kelp in turn contains direct precursors of thyroid hormones, as well as other important minerals. Another part is selenium. If the body is not sufficiently supplied or the production of thyroid hormones is out of balance for other reasons, this can have different effects. An unbalanced hormone balance can become noticeable, for example, through heart palpitations, hair loss, skin irritations, moodiness or drowsiness.

But what is the function of thyroid hormones in the body?

The hormones are an elementary component of our entire organism and play a decisive role in our general well-being. Thyroid hormones are true all-rounders and regulators of many basic bodily functions: These include the general metabolism, our basal metabolic rate, the maturation and growth of our bones and skeletal muscles, and the increase in our heart rate and heart beat.

Ingredients

Nutritional values per daily serving (1 capsule)

Iodine (from organic kelp)

150 μg (100%*)

Selenium (from organic mustard seed extract)

55 μg (100%*)

*Nutrient Reference Value (NRV)
FAQ

When and how should I take the product?

We recommend taking our products with a meal and a glass of water. The intake time depends on the product and you will find the exact recommendations on each package.

Are there any known intolerances?

We are not aware of any intolerances, but we cannot rule out individual intolerances. Please adhere to our recommended intake.

Can the capsules be opened? (e.g. if it is difficult to swallow)

The capsule can also be opened and the contents can be taken without the capsule shell
Please do not expose the contents to excessive heat
avoid acidic drinks
consume immediately after opening the capsule

Tip for swallowing difficulties:

Place the capsule in your mouth with enough water and tilt your head slightly forward towards your chest. Even if you don't expect it, taking it this way is many times easier.

When can I expect to see an effect?

Each of our products addresses different needs and pursues different modes of action and goals. Basically, dietary supplements are not medicines. For a sensible supplement to a healthy lifestyle, we recommend taking the products for at least 1 up to 3 months.

What happens if I don't notice any effect?

If you don't notice anything, it doesn't mean the ingredients aren't working. Everything we ingest has an effect that we don't necessarily feel immediately. We pay a lot of attention to the quality of our ingredients, their bioavailability and combination.

Can I combine CLAV products?

Our products are all:

basically well to combine
very balanced and holistic in their approach
developed to provide you with the different life situations, needs and goals
containing highly bioavailable ingredients

You can contact us directly for all individual combinations and we will be happy to advise you personally.
Shipping & Return

Free shipping within Germany starts from 29 EUR order value (3.80 EUR in all other cases)
Delivery Flat Rate within the EU for 6.90 EUR
Flat Rate Delivery outside the EU for 25 EUR (additional customs duties and fees may apply)
30 Days Return Policy.
30 Days Money Back Guarantee on one item from one order, even after opening and trying the product! Only applicable once per customer.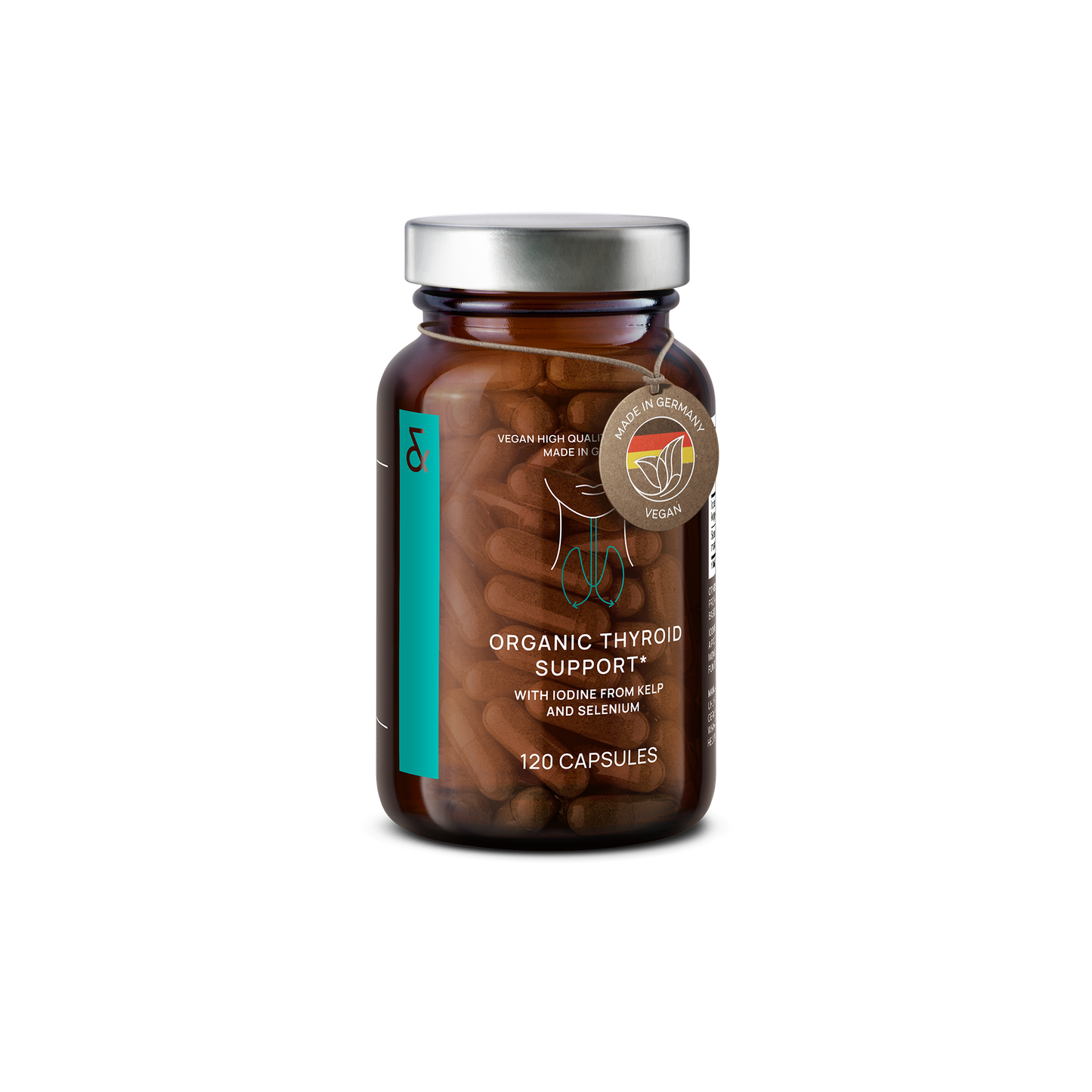 CLAV's Organic Thyroid Supplement - What is important to us?
We combine what is important for our thyroid hormones and thus for a balanced hormone balance: Iodine and Selenium. We use only high-quality organic brown algae powder and organic mustard seed extract. Our organic iodine comes from kelp algae (organic Ascophyllum Nodosum), which belongs to the brown algae and, together with other valuable nutrients, makes the algae a complete food. This is the first step towards high-quality organic kelp capsules.
We do not only pay attention to an intelligent combination of ingredients and their purity during the conception and production. We also support a conscious use of available resources. The Organic Thyroid Complex is 100% vegan and we do not use unnecessary fillers. We use vegan HPMC capsules and light-protected as well as environmentally friendly and recyclable glass bottles for our thyroid tablets. All free from lactose, gluten and genetic engineering.
Buy thyroid tablets - why iodine and selenium in a complex?
We have created an organic kelp capsule complex that you can take either as a cure or permanently to support your hormone balance. The combination of iodine and selenium holistically strengthens your physical and mental balance, which is significantly influenced by the hormones of the thyroid gland. Selenium and iodine are essential for the normal production of thyroid hormones and thyroid function.
One organic kelp capsule of our N°11 Thyroid Balance contains 100 mcg of iodine (100% NRV*). Iodine is important for the normal functioning of your nervous system and contributes to a normal energy-rich metabolism. However, one of the most important functions is iodine's contribution to the normal production of thyroid hormones.
In addition to organic iodine, each capsule contains 55 mcg of selenium (100% NRV*) from organic mustard seed extract. Selenium is not only important for a well-functioning physical defence and your immune system. Like iodine, it contributes to normal thyroid function (and also supports healthy skin and sperm formation - perhaps good to know!).
Why do we combine these two minerals? Because this allows a needed building block (iodine) to cooperate with an important cofactor (selenium) - your hormone balance will thank you!
What does the thyroid gland do?
In order for our thyroid gland to work, it needs material. The organic iodine it contains is part of this. The organic iodine from organic kelp in turn contains direct precursors of thyroid hormones, as well as other important minerals. Another part is selenium. If the body is not sufficiently supplied or the production of thyroid hormones is out of balance for other reasons, this can have different effects. An unbalanced hormone balance can become noticeable, for example, through heart palpitations, hair loss, skin irritations, moodiness or drowsiness.
But what is the function of thyroid hormones in the body?
The hormones are an elementary component of our entire organism and play a decisive role in our general well-being. Thyroid hormones are true all-rounders and regulators of many basic bodily functions: These include the general metabolism, our basal metabolic rate, the maturation and growth of our bones and skeletal muscles, and the increase in our heart rate and heart beat.
Ingredients
Nutritional values per daily serving (1 capsule)

Iodine (from organic kelp)

150 μg (100%*)

Selenium (from organic mustard seed extract)

55 μg (100%*)

*Nutrient Reference Value (NRV)